NEW!
Divers' Economy Room
Available only with a Scuba Diving Package, this air-conditioned room is ideal for keen scuba divers who wish to stay at a high-quality resort at a budget price and do 2 (or more) scuba dives per day at one of the world's best all-round diving locations. Scuba Diving Packages include the following:

• Daily Continental breakfast.
• 2 guided scuba dives per person per night booked, with compressed air-tanks and weights.
• Boat rides or other transport to/from dive sites.
• Refreshments and use of towels on dive outings.

Additional dives and scuba rental equipment are available. E-mail us for more information or book securely on-line now.


All the News from Southern Leyte
Latest Update 2nd January, 2018.
2nd January, 2018.
The low pressure system mentioned in the previous post developed into Tropical Depression Agaton and passed south of us last night. 3 dive boats from neighbouring resorts were sunk in the big waves generated by this depression but, fortunately, our own boat was safely moored in more protected waters and we had a great combined diving and snorkeling outing in beautiful weather today.

1st January, 2018.
Happy New Year!
We saw out 2017 in great style yesterday. We enjoyed another outstanding whale shark tour (see the Whale Shark News-->Whale Shark News page) in perfect weather with a 40 minute interaction with a newly identified 5-metre male whale shark and saw 5 different species of dolphins numbering about 200. That was followed by a wonderful gala buffet dinner and then champagne to accompany a great fireworks display.
Disappointingly, 2018 has got off to a poor start weather-wise with continual showers and overcast skies as a low pressure area approaches us. Hopefully, the weather will clear quickly and we can enjoyed the planned trip to Limasawa Island tomorrow and our first whale shark tour of 2018 the following day.

23rd December, 2017.
Yesterday, Tropical Storm Vinta traversed the island of Mindanao, well over 200km to the south of us, leaving a path of death and destruction in its wake. Fortunately for us, the weather here was not too bad, with only strong breezes and moderate seas, and the sun even made an occasional appearance in between the rain showers. Our biggest issue was, that for the 2nd time in a week, the ferries to Southern Leyte were shut down. Today is lovely and sunny, although we still have a fresh to strong easterly breeze limiting diving and snorkeling options, and we will probably see the odd rain shower or two before the day is over.

11th December, 2017.
Yesterday's whale shark your was outstanding with 6 interactions with at least 5 different whale sharks. We've also been enjoying superb scuba diving with a mix of stunning walls, fascinating macro and outstanding night dives.

10th November, 2017.
As anticipated, and hoped for, after the change in the weather pattern, the whale shark season started on 4th November, with 3 whale shark sightings and there have been multiple sightings every day since then. Keep abreast of how the season is developing on our page. The weather is wonderful, so come and enjoy by far the best whale shark experience in the Philippines.
With the return of the north-easterly winds, known as amihan, the direction of the waves has also changed and all the detritus, both natural and artificial, washed up on shores further up the bay over the past 5 months is now migrating south. Each morning, cleaning our private beach is a massive task and this will continue for another week or so. Unfortunately, this means that the beach will not be returned to its pristine condition until around mid-morning, so please bear with us on this.

1st November, 2017.
The south-westerly habagat has now given way to the north-easterly amihan which will last until the end of May. The temperatures will be slightly cooler (high 20's rather than low 30's Celsius) and the humidity significantly lower, which is always welcome! Most importantly, amihan season is whale shark season and we are anticipating reports of regular whale shark sightings any day now - keep up-to-date by checking our Whale Shark News page.
In the meantime we are enjoying great diving, snorkeling and dolphin watching and divers can enjoy fabulous discounts on diving packages from now until just before Christmas. Speaking of which, we still have some availability for the festive season, so contact us now to book your Christmas holiday in the sun!

21st October, 2017.
The prolonged spell of wonderfully calm and sunny weather came to an end on Wednesday, with strong winds and grey skies brought on by Typhoon Lan (Philippine name Paolo). Although this typhoon was never less than 750km away from us, the outer bands covered a huge area. Nonetheless, we enjoyed some wonderful shore dives from the sheltered leeward shores on our side of the bay.
2 days before the rough weather arrived a whale shark was seen on our house reef and the following day a well known whale shark was identified in the area where whale sharks traditionally aggregate during the whale shark watching season. The fact that this whale shark is a habitual visitor to Sogod Bay is especially encouraging as it indicates that the whale shark season is likely to start very soon.
The weather is now calming down and the sun has returned and we can anticipate more great diving and snorkeling conditions and look forward to running our first whale shark tour of the 2017/18 season.

7th October, 2017.
The glorious, hot and calm weather continues! As a bonus we've been enjoying overnight rain showers which is keeping everything lush and green. Water temperature continues to be 30 Celsius and visibility is really good, so we've been enjoying ideal diving conditions. For those guests who wish to chill and relax the only challenge has been to find a cool spot to do so!

19th September, 2017.
Although today has started with some cloud, we have enjoyed absolutely wonderful sunny and calm weather recently. Diving conditions have been outstanding and on the house reef alone we have been seeing octopus, frogfish, turtle, mantis shrimp, moray eel, lion fish, emperor snapper, large schools of banner fish, coronet fish, nudibranches, sea snakes, tuna, barracuda, cuttlefish, to name but a few. And all enjoyed without another diver for miles around!

3rd September, 2017.
Happy Birthday, Nikka!
Nikka turned 9 years old today and, being a Sunday and with no guests staying last night, she celebrated with a lunchtime pool party attended mainly by kids from our local village. Lunch of a traditional letchon, pancit, calderita and a delicious chocolate birthday cake, gave way to party games and fun in the pool, which were thoroughly enjoyed by all.

26th August, 2017.
Our scuba diving operation successfully passed yesterday's random inspection performed by the Philippine Commission on Sports Scuba Diving (PCSSD). The PCSSD regulates the diving operations throughout the Philippines and the inspection checks the safety equipment provided by dive operators as well as performing rigorous tests on the quality of air in the dive cylinders. Out of the 6 dive resorts in Southern Leyte only 1 other resort, in addition to ourselves, has gained PCSSD accreditation.
On top of fulfilling the requirements and passing the inspection of the PCSSD, we are also accredited by PADI. We operate guided scuba diving excursions to all the wonderful dive sites in and around Sogod Bay for very small groups with a maximum of just 4 divers, thereby ensuring a wonderful, personalized and safe diving experience for all our guests.

14th August, 2017.
For the past 2 weeks we've been enjoying hot, sunny and almost completely calm weather. Diving and snorkeling conditions are excellent with visibility of 20 metres or more and sea temperatures of 30 Celsius. Most days a light breeze has picked up in the middle of the day allowing some wonderful sailing in the late mornings and early afternoons. There are plenty of dolphins around, as usual, and a whale shark swam over the house reef a couple of days ago - hopefully there will be others around too!

27th July, 2017.
Flights to Maasin!
Maasin airport, less than an hour's drive from the resort, opened last week for commercial flights. Currently Air Juan is running 4 flights a week to/from Cebu with 2 of these flights routing to and from Tagbiliran in Bohol. The opening of Maasin airport has been long-awaited and, hopefully, there will soon be more flights and/or airlines flying in to Maasin. Full details of means of accessing Padre Burgos can be found on our Getting Here page (desktop site only), or you can call or e-mail us at any time.

20th July, 2017.
After 2 months of glorious, calm weather interspersed with the occasional tropical shower to keep everything fresh and green, we are today experiencing the first south-westerly breezes of the habagat season. When this breeze blows strongly, the diving and snorkeling sites on the far (east) side of the bay can be affected by large waves, at which times we enjoy the superb sites closer to the resort. During this habagat season we continue to enjoy predominantly sunny and very warm weather and, with the nice breezes, there are great sailing conditions.
Surprisingly a couple of whale sharks were spotted in the marine sanctuary at Limasaswa Island a couple of days ago, but realistically we will need to wait until the end of October before we consider running whale shark tours again. Dolphins are, as usual, numerous and on our last couple of outings we have enjoyed watching large pods of spinner dolphins performing various acrobatics. And for the first time in our experience of running dolphin watching trips for over 6 years we saw some bottlenose dolphins on a recent outing.

18th April, 2017.
We are now enjoying perfect "summer" weather, with clear skies, warm temperatures and pleasant breezes. Diving and snorkeling conditions are excellent, and we are finding dolphins on all our Limasawa Island tours and dolphin watching trips.
Unfortunately, the re-appearance of the whale sharks was short-lived and there have been no sightings during the past couple of weeks.

31st March, 2017.
Whale Sharks Again!
A week ago the whale sharks "returned" to Sogod Bay and there have been regular sightings since then. We hope that this will continue and we can run some great whale shark tours before the season should finish around the end of May. Up-to-date information on whale shark watching tours-->whale shark watching tours and sightings can be found on our Whale Shark News-->Whale Shark News page.
Water visibility is now excellent and the temperature has increased to 27 Celsius, so diving and snorkeling conditions are superb.

18th March, 2017.
With beautiful daytime weather and clear evening skies, we have enjoyed some wonderful moon rises this week with the rising of the full moon just before sunset on Sunday, an orange moon at dusk on Monday and a glorious red moon rising well after dark on Tuesday. With the great, dry weather, diving conditions have been excellent and surface visibility has also improved dramatically for guests who prefer to snorkel. As always, dolphin watching is superb and on the way back from our dive trip to Limasawa we stopped the boat for 15 minutes while a pod of about 50 melon-headed whales entertained us at very close quarters - or was it the other way around?

12th March, 2017.
After the last post, the weather took a distinct turn for the worse and it rained for the best part of a week. Happily, the sun is now back with us and let's hope we can enjoy a period of sustained good weather. Diving conditions have remained great, with good visibility below about 15 metres, but in places the visibility near the surface was extremely limited and snorkeling conditions at some sites have been quite poor.
We still have some availability over Easter (Holy Week) and on-line reservations can be made here.

3rd March, 2017.
The weather is steadily improving as we are already into March, and today is a glorious, warm, sunny day with hardly a breath of wind. Snorkeling and diving conditions are also great with good visibility, although the water temperature is still a rather cool 26 Celsius. A surprising sight on a recent daytime dive at Medicare North was a flamboyant cuttlefish, while Wednesday's dive at the same site yielded some eagle rays as well as several turtles, morays, nudibranches and schooling yellow-fin barracuda. Diving and snorkeling operations at Napantao are now back to normal after the (unsuccessful) search operations have been concluded. We passed a pod of active Fraser's dolphins on our way to dive at Limasawa Island yesterday morning, so it really is a great time to be in and on the water!

18th February, 2017.
Our recent guests have all been non-divers, so land-based activities have been the order of the past several days. As well as local walks to waterfalls, to a lookout point above Padre Burgos town and along the wonderful shoreline at low-tide, guests have been enjoying some great tours by car to see old Spanish-era houses, bell-towers and churches, hill-top chapels and shrines, feed fish at a delightful marine sanctuary and interact with wild monkeys. Yesterday 2 guests undertook a more adventurous trip to visit the caves and waterfalls at Guinsohotan which entails walking through the stream to reach the waterfall and wading through thigh-deep water to access the spectacular, bat-inhabited cave. We should be back out on the water tomorrow, with a planned visit to Limasawa Island including snorkeling, dolphin watching, a walk on the island and a barbecue lunch at an idyllic beach.

12th February, 2017.
Over the past week we've been enjoying beautiful, calm weather and superb snorkeling, diving and dolphin watching. Water visibility is much improved, although still limited to around 10 metres at most sites, and the temperature is still a rather chilly 26 Celsius. Perhaps the surprise spot of the week was a flamboyant cuttlefish at Medicare North, which is a creature we normally see only on shallow "muck" dives. Tragically a young man was lost while diving with another local dive operator at Napantao, and that dive site is closed temporarily as a search operation is underway. Events such as this remind us all that diving is a team activity, and observance of the buddy system is an essential part of diving safety.
Recently there have been no successful whale shark tours, and only occasional reports of sightings of whale shark by local fishermen, and, for the time being at least, the chances of finding whale sharks are poor and undertaking a whale shark tour is not recommended.

30th January, 2017.
We enjoyed superb weather on today's Limasawa Island tour, although the water visibility was only fair at the 3 sites where we snorkeled. Nonetheless we saw a huge variety of splendid marine life including turtles, emperor snappers, moray eels and nudibranches.
As is often the case, the undoubted highlight of the day was 30 minutes spent surrounded by about 100 melon-headed whales with 20 or so Fraser's dolphins mixed in.
And with not another tourist in the vicinity all day long, it was another stunning day out!

24th January, 2017.
After 2 weeks of what seemed like continuous rain, we have enjoyed much brighter and sunnier weather for the past 4 or 5 days, although it has been quite windy and choppy, which has meant that dolphin watching has been impractical as it needs to be reasonably calm to have a good chance of finding dolphins. Strong winds and big waves curtailed diving one day last week, otherwise diving has been excellent, as has snorkeling on reefs on leeward shores.

13th January, 2017.
For the past week the weather has been very rainy, but at least it has been calm. Diving and snorkeling conditions have been surprisingly good, despite the rain, and dolphin watching as reliable as ever. Our only whale shark trip so far in 2017 was on New Year's Day, and we're looking forward to better weather to update our Whale Shark News-->Whale Shark News page with the current status of whale shark sightings.

1st January, 2017.
Happy New Year!
Last night Delia put on a wonderful spread with a centrepiece of whole roasted pig (letchon), king prawns in coconut sauce, beef steak Filipino style, and a perfect kanilaw accompanied by a selection of great Filipino side dishes. With delicious South African wines over dinner and some lovely prosecco to see in the New Year and enjoy a great fireworks display it was a memorable evening.
2 guests decided to do an abbreviated whale shark tour, with a much later start than normal, today and were rewarded with 2 great whale shark interactions the 2nd of which was a 35-minute snorkel with a 7-metre female shark.

26th December, 2016.
Merry Christmas!
While Southern Luzon, which is about 400km north of here, is being battered by Typhoon Nina (Nock-ten) we are enjoyed beautiful, calm weather here. On Christmas Day our guests enjoyed a superb outdoor champagne breakfast, a wonderful afternoon snorkeling trip to Napanatao marine sanctuary and a sumptuous 4-course dinner under the stars.
Diving, snorkeling and dolphin watching are absolutely outstanding at the moment, and Southern Leyte is the place to visit if you want to escape the New Year crowds (or crowds at any time of year, for that matter). The whale sharks have been quite elusive over the past week and we will update our Whale Shark News page with the current status after completing our whale shark tour today.

17th December, 2016.
One month into the 2016/17 season we are seeing a similar pattern to previous seasons, with a mixture regular visitors, occasional previous visitors and "new" whale sharks never previously identified anywhere. In total, over the past 5 seasons, 208 different individual whale sharks have been identified here, with 18 of those being seen for the first time this season. The vast majority of whale sharks identified are males, which are usually juveniles between 5 and 7 metres long but over the past week large, mature males around 8 metres, have been seen.

14th November, 2016.
The whale shark season is underway!
As anticipated, the return to our normal sunny weather (albeit still with a shower or two), has brought the first whale shark sightings of the season. During peak season there are estimated to be about 30 whale sharks in the vicinity at any given time, and at the moment it is likely to be considerably fewer than that so sightings might not yet be as reliable as we would wish but things should improve day-by-day. With predominantly calm and sunny weather and very few tourists around, the pre-Christmas period is a great time to enjoy the whale sharks in splendid isolation. After completing the annual dry-docking, our motor boat, Monarch Of The Bay, was re-launched last Friday and we're all set for another fabulous whale shark season. To book a tour, just send us an e-mail.

5th November, 2016.
We are experiencing very unsettled weather at the moment, with quite a lot of rain, which is very unusual for this time of year - indeed for almost any time in this dry corner of the Philippines. The prevailing wind direction has switched to the north east and the changed wave patterns have brought back lots of sand to the inter-tidal area of our beautiful private beach.
Despite the rain, diving and snorkeling conditions remain excellent and we saw lots of dolphins on our last outing. We still have spaces available on our dive trips for most dates during the coming season but, as group sizes are limited to just 4 divers, it is recommended to book early. And, of course, we are eagerly anticipating the start of the 2016/17 whale shark season and when the sun returns, hopefully so will the whale sharks!

13th October, 2016.
Padre Burgos benefits from being off the main tourist trail and is a very peaceful and unspoiled holiday destination, but the past few weeks have been exceptionally quiet, even by local standards. Those people who have visited have enjoyed great weather and outstanding diving, snorkeling and dolphin watching. Of course, we are looking forward to the imminent return of the whale sharks which should happen very shortly. Up-to-date information about whale shark sightings and our own fabulous whale shark watching tours can be found on our Whale Shark News page.

17th September, 2016.
Having finished entertaining a film crew who made repeated visits to Napantao, it was great to dive on the 'house reef' again today. Conditions were excellent with no current and 20m visibility, and we enjoyed various nudibranches, morays, lionfish, emperor sweetlips, anemone crabs, blue-spotted ribbon-tail rays, etc. The 'house reef' is often ignored by divers, and snorkelers, who venture further afield but it's always wise not to over-look what is right on your doorstep!

3rd September, 2016.
Happy Birthday, Nikka!
To celebrate Nikka's 8th birthday we drove up to Inopacan and did a day trip visiting the Cuatros Islas by boat. As the name suggests this is a group of 4 small islands, the nearest of which is about 30 minutes off-shore. All the islands have nice sandy beaches and we had a great picnic lunch and some lovely swimming on the quietest island - which meant we had the beach all to ourselves! We also spotted some dolphins along the way, and all-in-all it was a great day out.
We've enjoyed overnight rain on 3 occasions this week, which was very welcome as the days continue to be hot, sunny and calm - so a perfect week weather-wise!

27th August, 2016.
Tomorrow is fiesta day here in barangay Tangkaan, our local village. Every village in the Philippines adopts a patron saint, and the fiesta day marks that saint's day - in our case the death anniversary of St Augustine of Hippo. While there is still a strong religious element to the day, and most people will attend church, fiestas are times when families reunite and celebrate with eating, drinking, singing and dancing. This year Tangkaan is putting on a great schedule of sporting and cultural events, and last night there was an excellent programme of 'Dances Of The Decades' performed by the students, staff and parents of the village elementary school, and which Padre Burgos Castle Resort proudly sponsored.
The sun continues to shine almost non-stop, and some rain would actually be very welcome now. The habagat wind has eased in the past few days and we are enjoying perfect diving, snorkeling and holiday conditions, and still with nice sailing breezes.

16th August, 2016.
A new fast ferry service between Maasin and Cebu started operating last week. Maasin port is only 45 minutes' drive away from the resort, so this is a significant benefit to guests arriving in and/or departing from Cebu. It also makes a 2-centre holiday, visiting somewhere on Cebu Island such as Moalboal or Malapascua, much more convenient. And for guests combining Bohol with Padre Burgos, the daily ferries between Bato/Hilongos and Ubay in Bohol continue to provide an efficient service.
The 'wet season' continues to be mainly sunny and dry, as it usually is here in Padre Burgos, and holiday conditions are excellent. The habagat wind has being blowing consistently for the past 10 or so days, so diving and snorkeling conditions are best on the beautifully sheltered lee shores on our (the western) side of the bay. Needless to say, there is some great sailing to be enjoyed!

29th July, 2016.
July is 'Nutrition Month' and we have again being providing a meal to all 180 children at the Tangkaan Elementary School every Friday throughout July. Today was the final day of this year's programme, which includes education on nutrition, provided by the full-time teachers, and Delia was invited to give a motivational speech to close the programme. Whether the speech and the teaching are as popular as the food is debatable, but there is always 100% school attendance on Friday's throughout July!

July 24th, 2016.
The improvement work we've been undertaking in the guest rooms and en-suite bathrooms is now complete, and everything is in excellent shape. Fully enclosing all the bathrooms has been such a good idea, and not as difficult to accomplish as we had feared, that we almost wish we had done it sooner! Of course, there is always scope for further improvements and completing the Guest Feedback Forms, available in your room, is a great way to note any deficiencies and suggest enhancements.
Apart from a couple of hours around lunchtime last Tuesday, when high winds and rain materialised out of nowhere, the weather has been sunny, hot and very calm. Diving and snorkeling conditions are superb, and it is only keen sailors who will not enjoy the calm conditions.

July 6th, 2016.
We have been enjoying great weather, superb diving and fabulous dolphin watching recently. There have been regular rainfalls, all of which have occurred at night or very early in the morning and haven't interfered with any of our activities - but have done wonders for the garden after the long dry season. The dive sites are all delightfully peaceful and only once have we shared a site with another dive boat - even then we never saw other divers underwater. And after enjoying seeing lots of melon-headed whales, Fraser's dolphins and pan-tropical spotted dolphins over the past few months it was great to see a huge pod of around 200 spinner dolphins the other day - doing their customary entertaining acrobatics.
Work is progressing well on updating the en-suite bathrooms in the guest rooms. Previously, 3 of these were vented to the fresh air, which was nice, but the insect screens were rather ugly so we are enclosing those bathrooms and fitting extractor fans, new lighting and mirrors as well as changing the bathroom furniture. One bathroom is already finished, and looks great, and the other 2 will be ready very soon.

June 10th, 2016.
Lots of dolphins!
The departure for our Limasawa Island tour yesterday was delayed by a spectacular tropical downpour, but the sky cleared quickly and we enjoyed another fabulous outing. The highlight of the day was probably the pod of over 100 dolphins swimming right next the boat, with Fraser's dolphins, pan-tropical spotted dolphins and melon-headed whales all swimming together.
The habagat, or south-west monsoon, season is now definitely established. As well as prevailing south-westerly breezes,this brings more humid and less stable air increasing the incidence and intensity of rain showers. Being on the eastern side of the Philippine archipelago, we are quite protected from this and we usually enjoy a couple of showers a week - which obligingly tend to arrive during the hours of darkness or first-thing in the morning!

May 24th, 2016.
End of the dry season?
Yesterday we enjoyed our 2nd rainfall in the past 10 days, which may indeed mark the end of this year's 'dry season'. Although everyone – especially holidaymakers – enjoys warm, dry and sunny weather, we do need regular rainfall and the light precipitation which persisted all morning was much appreciated. The sun is out again in full force today but for the rest of the year we will, hopefully, benefit from an hour or 2 of rain every week as is the norm in these parts from June through December.
We run scuba diving and snorkeling excursions throughout the year and will take a minimum of just 2 people to any and all of the wonderful sites in the area, while most other operators require 5 or more divers to visit more distant places such as Sta Paz, Limasawa and Napantao. And, rain or sun, diving and snorkeling conditions are excellent while non-divers can enjoy the mainly sunny weather and other fabulous activities such as dolphin watching, island hopping, sailing, caves, waterfalls, etc.

May 2nd, 2016.
Although the whale shark season definitely seems to have come to a very premature end this year, there are reports of a blue whale roaming around the bay. We have yet to come across that ourselves, but we have been seeing small pods of pygmy killer whales, very are very rare. With water temperatures now back up to around 29°C and excellent visibility, scuba diving and snorkeling conditions are excellent. As is usual at this time of year, every day is hot, sunny and dry - all the ingredients of a perfect tropical holiday!

March 26th, 2016.
We have been enjoying absolutely perfect weather for several weeks now, with light north-easterly breezes keeping the temperatures lovely and comfortable. Diving and snorkeling conditions have been excellent, and the dolphin watching has been truly outstanding with frequent sightings of pods of over 200 dolphins. We can expect another 2 months of almost totally dry weather before we start to enjoy a very occasional rain shower while much of the rest of the Philippines endures its rainy season.

March 7th, 2016.
Although the sea water temperature remains on the cool side, at 26 - 27°C, the water visibility has improved significantly and diving and snorkeling conditions are excellent, as is the weather. Yesterday we enjoyed fabulous scuba diving at Napantao with schools of jacks, huge grouper and snapper, scorpion fish, octopi and white tip reef sharks to name but a few of the highlights. And we had one of the finest marine sanctuaries anywhere all to ourselves, which is one of the great benefits of diving, snorkeling, watching dolphins, etc., here in Southern Leyte. If you're looking to escape the crowds over Easter, this is definitely the place to come!

February 25th, 2016.
We are continuing to enjoy beautiful, sunny weather although fresh to strong north-easterly breezes have curtailed our planned excursions on a couple of occasions recently. Despite the water visibility being poorer than we are accustomed to, diving and snorkeling has been excellent with a recent prize, and very rare, sighting being of a hairy frog fish. The big question on our minds, however, is where are the whale sharks? For the past few weeks they have not been congregating close to the surface in the places we normally find them but whether they are close by in deeper water or have gone further afield in their constant search for food is unknown. We always advise guests not to visit Southern Leyte only to see the whale sharks, but to come to enjoy all the wonderful activities and peaceful ambience - and if you also see whale sharks it will top off a stunning holiday. At the moment that advice holds truer than ever.

January 21st, 2016.


Padre Burgos Castle Resort has just been awarded TripAdvisor's coveted 'Travelers' Choice Award' for 2016. This is the 5th consecutive year that we have gained TripAdvisor's highest award, which is based on reviews submitted by guests. All reviews can be found be clicking on the badge to the left.

As previous guests know very well, we do not rest on our laurels but work continuously to maintain our facilities in top-class condition and constantly strive to enhance and improve the services we offer. Come and enjoy!

January 11th, 2016.
What A Day!
We enjoyed one of our best ever whale shark tours today. To start with we came across a mixed pod of 50 or so melon-headed whales and Fraser's dolphins, and shortly after that around 50 spinner dolphins. After doing some absolutely outstanding scuba diving and snorkeling at Napantao we saw a small (about 3 metres!) whale shark which swam around the boat before departing into the deep water.
Another great snorkeling stop preceded a fabulous barbecue lunch at the beach from where we could see the fins of a whale shark swimming on the surface about 300 metres offshore. The local spotters, who do a fantastic job looking for the whale sharks, went out and tracked it so we were able to enjoy our lunch and find the shark as soon as we started our whale shark session. These sessions normally last for 3 hours but we had such an action packed first hour, with 4 whale shark interactions in total, that all our guests were thoroughly satisfied, not to mention exhausted. But that was far from the end of our wildlife adventure.
After some relaxation and refreshments back at the beach we headed for home on a glass like sea and found over 200 pilot whales, which are very large dolphins growing up to a length of about 6 metres. They were porpoising at a very leisurely pace and we cut the boat engine and admired them as they swim past us for about 20 minutes with the only sound coming from the pilot whales' blowholes as they exhaled. As if that wasn't enough, we saw a couple more spinner dolphins and finally a handful of melon-headed whales before arriving back at the resort!

December 25th, 2015.
Merry Christmas!
It's another lovely day here in Southern Leyte, and after a superb gala dinner yesterday to celebrate Christmas Eve we started our day with a smoked salmon and 'champagne' breakfast.
The water visibility is still a little poorer than normal following the heavy rain of a week ago, but diving conditions remain excellent. There are plenty of whale sharks around and we ran 2 great whale shark tours this week and 7 different sharks were seen on Wednesday.
We still have availability over New Year, so e-mail us at info@padreburgoscastle.com to see in 2016 in style!

December 11th, 2015.
We enjoyed a great whale shark tour yesterday seeing about 6 sharks. It was difficult to tell exactly how many as several were actively feeding in a small area, surfacing and then diving again as they opened their mouths wide to suck in the plankton-rich water. When we were diving today at Napantao, 2 whale sharks were again feeding right at the surface just a few metres away from where the dive boat was moored. We saw 1 of them while diving, but there is no doubt that snorkeling is by far the best way to watch whale sharks closely in the wild.
Diving conditions are excellent, although at 27°C the water temperature is a little cool for us 'locals'. We are running a full programme of scuba diving, snorkeling and whale shark watching over the festive period and still have diving spaces available on most dates.

November 25th, 2015.
Sensational Dolphin Watching!
The dolphin watching yesterday afternoon was absolutely outstanding, with around 300 dolphins including melon-headed whales, spinner dolphins, pan-tropical spotted dolphins and Fraser's dolphins. The melon-headed whales were swimming right under our bow in groups of up to 10 at a time, while about 40 spinner dolphins were porpoising in unison just a few metres away.
As well as 2-hour dolphin watching excursions, where the success rate of finding dolphins is about 95%, we also watch dolphins on our fabulous full-day Limasawa Island tours and on our Whale Shark Tours. There are plenty of whale sharks around at the moment, and with beautiful, calm weather now is a perfect time to visit to enjoy all this wonderful marine life.

November 16th, 2015.
Whale Sharks Galore!
10 different whale sharks were seen today, and we also saw a whale shark on a regular scuba dive at Napantao. This is possibly the best ever start to a whale shark season, as a result of which marine biologists from the Physalus NGO, who normally base themselves in Southern Leyte from early February until the end of June, are already studying the whale sharks in the area and have deployed some more satellite tags to enhance our knowledge of these rare and beautiful creatures. Throughout the season we will again be inviting these biologists to join us on our whale shark watching trips to assist them with their work, and so that they can share their knowledge with our guests.

October 26th, 2015.
Whale Shark Season Is Underway!
Bang on schedule, the whale sharks have 'returned' to Sogod Bay. I say 'returned' because where they go out of season is not known, and they may indeed be in the vicinity all year round - just in deeper water so we don't often see them.
Anyway we are now running our full-day whale shark tours with the same format as in previous seasons - dolphin watching snorkeling in a superb marine sanctuary, a visit to the birthplace of Christianity in the Philippines (or a 2nd snorkeling site in lieu) and a superb barbecue lunch at the beach in addition to 3 hours' whale shark interaction.

October 24th, 2015.
There is a marked changed in the weather and we are seeing the first consistent north-easterly breeze, or amihan, of the season. The changing wind and wave patterns make all the snorkeling and diving sites around the bay accessible again and conditions are excellent. We took advantage yesterday with an excellent tour to Limasawa Island seeing turtles,adult harlequin sweetlips, porcupine fish, lots of moorish idols and an unusually patterned moray eel fighting a trigger fish. Not to be overlooked was excellent close up viewing of a smallish pod of about 30 melon-headed whales with a few Fraser's dolphins staying a slightly more conservative distance away from the boat.
With the advent of the amihan the flight path of the huge fruit bats which live in caves and trees on Limasawa Island is again directly over the resort and they provide a great spectacle at dusk.
The amihan is not yet completely established, but it should be shortly, and we are anticipating the start of the whale shark season very soon. Stay tuned.....

October 6th, 2015.
Beautiful weather & superb diving! The south-west monsoon, or habagat, is definitely waning and we're starting to get some light north-easterly breezes. We can therefore expect calm and sunny weather for the next couple of months and, if we're in luck, the seasonal return of the whale sharks very soon.
Today's conditions were absolutely perfect for the diving trip to Limasawa where we were the only visitors and enjoyed 2 wonderful wall dives in splendid isolation. To top it off we came across a small pod of pygmy killer whales along the way.

September 22nd, 2015.
Whale shark on the house reef!
An excited cry came from the beach this morning when a whale shark was spotted cruising along the surface just 20 metres from the shore. Unfortunately 2 divers had just completed their dive on the house reef and there were no other divers or snorkelers in the water at the time! We are looking forward to the whale shark season starting in early November, but it would be great if this sighting indicates an earlier start earlier this year.

September 19th, 2015.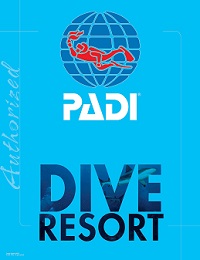 Following completion of our excellent Dive & Water Sports Centre, we are delighted to announce that we are now an accredited PADI Dive Resort. As such we are recognized as following the rigorous standards set out by PADI in terms of safety and facilities & services offered to guests.
Now under the PADI flag, we continue to run guided scuba diving trips to all the wonderful dive sites in Sogod Bay for small groups with a maximum of just 4 divers. And, in addition to Discover Scuba dives for people who have never dived or who are not certified, we also offer the full range of PADI Courses-->PADI courses from Open Water to Dive Master.
Scuba diving is only one of the services and activities which we provide, and we offer luxurious accommodation, superb food, excellent facilities and lots of rewarding activities for divers and non-divers alike.


September 13th, 2015.
Our new Dive & Water Sports Centre is now fully operational with 3 large rinse tanks, a spacious drying, storage and changing area, rental equipment store and a dedicated dive compressor room. As well as outstanding guided scuba diving and snorkeling trips, the centre offers swimming with whale sharks, sailing, kayaking, island hopping and dolphin watching.
We enjoyed a heavy 10 minute shower early this morning, which was our first rainfall during daylight hours this month. At this time of year the south-westerly, habagat, wind will become infrequent and diving and snorkeling conditions should be nigh on perfect.

August 28th, 2015.
Happy Fiesta!
Today is fiesta day in our village, commemorating the death, in 430AD, of Saint Augustine of Hippo, the patron saint of barangay Tangkaan. There have been several days of festivities including a basketball competition, disco and, tonight, a variety show put on by the village elementary school. Fiestas are important events for the various churches as well as an occasion for family reunions and parties, and the normally sleepy barangay has been a hive of activity for the past few days.
As expected, we have enjoyed beautiful, calm weather conditions all week, and diving and snorkeling have been excellent at all the sites around Sogod Bay.

August 22nd, 2015.
The habagat, or south-westerly, wind has been blowing quite strongly for the past few days, but with lots of sunshine diving and snorkeling conditions on this side of the bay have been excellent. We did manage another excellent snorkeling trip to Limasawa before the wind really set in, although it was quite choppy both on the way there and, especially, back. The snorkeling sites at Tangkaan reef and Limasawa marine sanctuary are both in the lee of the south-westerly wind, and we enjoyed great conditions seeing moray eels, paper fish, sea turtles among thousands of other things. Despite the chop we saw a pod of spinner dolphins and then a separate pod of melon-headed whales, although the viewing was shorter and at a greater distance than we usually enjoy here in Southern Leyte.
The wind is expected to ease soon, and diving and snorkeling trips to the western side of the bay will again be available. In the meantime, today is going to be hot and sunny, with a strong breeze for some more exciting sailing!

August 16th, 2015.
With only a couple of showers around daybreak, the sunny and calm weather over the past week has been ideal for exploring Sogod Bay. Tuesday's snorkeling trip to the stunning marine sanctuary at Napantao was outstanding, and the 3 guests who snorkeled were hugely impressed by the section where the reef, adorned at the top with soft corals, drops vertically from 1 metre to 35 metres deep. Giant bat fish, large schools of parrot fish and fusiliers, clown fish, free-swimming squid and thousands upon thousands of anthias, damselfish and wrasse were among the sights to behold. To top it off, a pod of spinner dolphins was spotted along the way!
Dolphin watching as part of Thursday's Limasawa Island tour was even better, with around 300 melon-headed whales, spotted dolphins and a few spinner dolphins surrounding the boat for over 30 minutes. 2 fabulous snorkeling sites, a visit to the site where Magellan held the first Christian mass in the Philippines in 1521, a walk to appreciate the life and beauty of Limasawa Island, and a delicious barbecue lunch at a lovely beach with not another soul in sight all added up to another wonderful 'Adventure in Tranquillity'!

August 10th, 2015.
The weather last week was predominantly fine, but the fresh to strong south-westerly breezes restricted diving and snorkeling to the excellent reefs and marine sanctuaries on the east (our) side of the bay. The breeze has now abated, and with calm conditions and the sun out in full force, the wonderful diving and snorkeling sites on the west side of the bay, such as Napantao and Sta Paz, as well as at Limasawa Island are accessible again. We did manage to run an excellent Limasawa Island tour before the breezy conditions set in, and a pod of about 200 pan-tropical spotted dolphins were superb entertainment during the only rain shower of the week.
Our dive and water sports centre is nearing completion, and all the diving, snorkeling and sailing equipment and facilities will then be located right where they are needed close to the sea.

July 27th, 2015.
Over the weekend we hosted a small seminar for the senior teaching staff from Leyte Normal University. Although not a mainstream part of our operations, we do offer a superb venue for small groups of around 10 to 15 participants who want to hold meetings or conferences in a beautiful and peaceful location. Such groups need to take all of our 5 rooms for the duration of their acivities, as we don't mix 'business' and 'leisure' guests whose requirements are quite different.

July 13th, 2015.
The sun is out in force again and, as is normal for this time of year, the past couple of weeks have been beautiful and dry. The strong breezes have abated and conditions for diving, snorkeling, island hopping, etc are again superb.
We are again supporting the 'Nutrition Month' at the local elementary school by providing meals for the 192 school children every Friday in July.

July 3rd, 2015.
The upgrade to the water sports centre is progressing well and, when it is completed, it will also serve as a fully equipped dive centre. After several days of showery and flat calm weather, the predominant meteorological feature of the past few days has been the strong south-westerly wind. Yesterday the beautiful powdery sand at the beach had stretched 40 metres out at low tide, but with 3 metre surf breaking on the shore during the high tide this morning the inter-tidal area at the beach is now almost completely bereft of sand. With the strong south-westerly winds and high waves, diving and snorkeling options are currently restricted to the beautiful reefs on the eastern shores of the bay, close to the resort, and trips to the western side and to Limasawa Island will resume when the winds calm down.

June 21st, 2015.
Rain At Last! Last Wednesday morning the weather finally broke and we enjoyed 2 to 3 hours of much needed moderately heavy rainfall. With regular showers on Thursday, Friday and yesterday lots of green shoots are starting to re-appear, and the area is already looking more like a tropical paradise than a barren Mediterranean island at the end of a long, hot summer.
We have now started work to renovate and upgrade our water sports centre to create first-class facilities for washing, drying and storing dive equipment. The work will take about 6 weeks to complete, and in the meantime guided diving (and snorkeling) trips for very small groups are available as normal.

June 12th, 2015.
It's Independence Day in the Philippines and the last day of the school 'summer' holidays for our daughter, Nikka. Hopefully we will also soon get a respite from the 'summer' weather as we are now experiencing drought conditions with only a couple of hours' of decent rainfall in the last 4 months. The fruit on our avacado tree has all withered and died and the tree itself may soon die if we don't get rain very soon. Of course, this hot, sunny weather is perfect for holiday makers and diving, snorkeling, dolphin watching, etc. are all absolutely superb at the moment.

May 26th, 2015.
The calm, hot and very dry conditions continue, and afternoon temperatures are consistently reaching about 36 degrees Celsius. Our beautiful private beach offers plenty of shade and pleasant breezes, as well as sunny spots for those of you who like to work on your tans. Dolphin watching continues to be sensational, with hundreds of dolphins being seen on most dolphin watching trips although on one occasion last week we did fail to find any dolphins at all which, unfortunately, is always a risk when looking for wild animals.

May 8th, 2015.
We did enjoy some light rain on Monday morning, but the sun quickly returned. Typhoon Noul (Philippine name Dodong) is currently about 750km north-east of us and, as it won't get any closer, even that seems unlikely to give us some much needed rain. So conditions remain perfect for scuba diving, snorkeling, dolphin watching, island hopping and just relaxing at the beach and by the pool.
Dolphin watching, in particular, has been superb recently, and on our last outing we saw a mixed pod of well over 100 pan-tropical spotted and Fraser's dolphins, along with a handful of pilot whales.

May 1st, 2015.
The glorious weather continues, and we have had almost uninterrupted sunshine for nearly 3 months now and diving and snorkeling conditions remain first-class. And we are still enjoying nice north-easterly breezes which provide excellent sailing conditions and offset the high afternoon temperatures which are in the mid-thirty degrees Celsius.
Although data from the satellite tags recently attached to a couple of whale sharks indicate that whale sharks are not far away, it appears that they are coming to the surface at night and the last reported sighting was on 21st April. So it seems that the whale shark season has come to a premature end and we need to concentrate on the many other wonderful activities available, such as scuba diving, snorkeling, dolphin watching, island hopping, sailing, caving, excursions to waterfalls, etc. Unlike many parts of the Philippines, weather conditions in Southern Leyte tend to be excellent throughout what is elsewhere regarded as the 'wet season' from June to October. And with the much reduced amount of plankton in the sea, water visibility at those times is really superb.

April 23rd, 2015.
Unfortunately whale sharks have been quite elusive over the past couple of weeks. Marine biologists from the Physalus NGO have recently attached electronic tags to a couple of the sharks so we know that they are still in the neighbourhood, but being in the right place at the right time has not always been possible and some guests have missed out on seeing whale sharks.
Diving and snorkeling conditions remain absolutely superb so, with only at best a 50:50 chance of finding whale sharks, we yesterday took guests on a combined diving and Limasawa Island tour enjoying 2 fabulous wall dives in the stunning marine sanctuary in the morning, followed by an excellent barbecue lunch at the beach and a great walk on the island taking in the site where Magellan held the first Christian mass in the Philippines in 1521. We had already watched a pod of spinner dolphins in the morning, but the highlight of the day was the 45 minutes spent watching over 300 melon-headed whales, pan-tropical spotted and Fraser's dolphins all mixed together. The melon-headed whales cruised serenely alongside, while the spotted dolphins surrounded the boat doing their characteristic 'flopping' (rising vertically out of the water and flopping sideways with big splashes) and the Fraser's dolphins put on a great display of acrobatics 50 metres or so away.
For divers who want to enjoy the unique charm of Limasawa Island and experience what is probably the best dolphin watching in the world, without missing out on any diving, this 'combination tour' is unbeatable. And, of course, we hope that the current difficulties in finding whale sharks are short-lived and we can enjoy some more excellent whale shark watching until the end of May, which is the normal end of the season here in Southern Leyte.

April 4th, 2015.
We've had a wonderful week running snorkeling and whale shark trips every day for 3 young families. It's great to see children taking so much interest in the natural world around them and having a great time without relying on modern electronic gadgets. With superb weather, excellent water visibility and great whale shark watching the only thing missing was the absence of dolphins.

March 26th, 2015.
Congratulations to young William who, at 5 years old, yesterday became our youngest guest to snorkel with a whale shark. There is no reason why young children, who are competent swimmers, cannot snorkel with whale sharks although many of them do find the sometimes long search to find these wild creatures rather tedious. But for families who relish the outdoor and marine environments, a whale shark tour is a fabulous outing. The average age of the guests yesterday was just 17 while today's group was rather more mature, averaging 62 years, and they also had a wonderful day seeing 4 whale sharks with no other tourists around.

March 18th, 2015.
Our 2 diving guests described yesterday's dives at Napantao as the best diving they have done in the Philippines - and they have done quite a lot. The large white-tip shark was again present together with a smaller one. The guests then rounded off their stay in style doing a whale shark tour today and seeing 5 whale sharks (although the first 2 were deep and not much more than shadows), and separate pods of spotted and Fraser's dolphins. The final whale shark interaction was cut short by a transient boat from Cebu whose guests jumped right on top of the shark and made no effort to keep the minimum distance of 4 metres away from it. Not surprisingly the shark dived deep soon after that, but we had enjoyed over 10 minutes alone with it before this poorly educated group arrived.

March 5th, 2015.
We have just acquired brand new diving equipment and a new dive compressor to improve further the excellent scuba diving we offer for very small groups of divers. We guide groups of just 2 to 4 divers to all the wonderful sites in and around Sogod Bay, and today's trip to the stunning wall at Napantao marine sanctuary was made all the more thrilling by the presence of a large white-tip shark.
Of course, we shouldn't forget the whale sharks and yesterdays tour yielded 4 sharks and we rounded off a superb day watching a large pod of spotted dolphins on the way back to the resort.

February 26th, 2015.
After failing to find whale sharks on our previous tour a week ago, normal service was resumed today with 3 excellent interactions with whale sharks close to the surface. The pattern of dry, sunny and breezy weather continues and some rainfall would now be quite welcome. The water visibility is now excellent, although there are sometimes quite a number of jellyfish at the snorkeling and diving spots so full body rash guards or wetsuits come in handy.

February 15th, 2015.
Plenty of sunshine with fresh north-easterly breezes have prevailed over the past week and look set to continue over the busy Chinese New Year period. We started the week in style today with a fabulous whale shark tour, losing count of the number of sharks we saw while they were feeding actively on the surface.

February 5th, 2015.
We ran a stunning whale shark tour yesterday, seeing 5 whale sharks and a pod of about 100 pan-tropical spotted dolphins. It was comparatively busy by Southern Leyte standards, with 2 other boats also looking for whale sharks, but for 3 of the interactions our guests were the only ones snorkeling with the whale sharks.
Apart from 1 or 2 rainy days, the weather for the past 3 weeks has been excellent, and fresh to strong north-easterly breezes have made for some excellent sailing conditions over the past week. The water visibility is around 20 to 25 metres, which is not quite as good was were are used to in these parts, but is still very respectable.

January 23rd, 2015.
Congratulations to Annabelle and Anthony, whose wedding we were proud and delighted to host today. The weather was perfect and the sea views across to Limasawa Island were a magnificent backdrop to a beautiful ceremony.
The resort provides a unique and beautiful setting for an intimate wedding for a group of up to 25 to 30 people. Flowers, photographers/videographers, make-up artists, food and beverage can all be arranged and tailored to your specific requirements.

January 9th, 2015.
Whale sharks continue to be seen regularly, but given the amount of rain we've had over the past week the water visibility is much poorer than we are used to in these parts, and finding the whale sharks is taking time - and patience! Water visibility is irrelevant for dolphin watching and we are seeing dolphins very reliably on both our whale shark tours and our day trips to Limasawa Island.

January 1st, 2015.
Happy New Year!
A great champagne breakfast kicked of 2015 for us today. Not that more champagne was really needed after last night's superb dinner (whole letchon, chilli crabs, grouper escabitche, garlic-fried king prawns, etc., with free-flow wine) and great midnight firework display and champagne. After some mixed weather over the past week, which included a tropical storm passing through the Bohol Sea on Monday afternoon, we're enjoying a nice sunny start to the new year - long may it continue.

December 25th, 2014.
Merry Christmas!
We enjoyed a fabulous gala dinner last night with turkey, home-made ham, king prawns with cream sauce and a truly outstanding beef rendang - all accompanied by free flow wine and followed by a selection of delicious desserts.

December 16th, 2014.
We have been enjoying beautiful, sunny and very calm weather for the past week and diving and snorkeling conditions are superb. Whale shark sightings are positive and we are looking forward to doing some great whale shark tours over the festive season.

December 9th, 2014.
In the event Typhoon Hagupit (Ruby) passed harmlessly by, about 250km to the north of us. Here we had moderately strong winds with occasional gusts up to about 70kph for an 18 hour period, and essentially no rain at all. By sunrise on Monday, 8th December we were enjoying gloriously calm conditions and have been basking under clear blue skies since then.
In my 6 years of diligently following the forecasts on all tropical cyclones in the north-west Pacific, this was the storm which has been the least predictable of all. At one stage, it was forecast to 'recurve' to the NE and sustained wind speeds were going to peak at 315kph with gusts even stronger than that. Instead maximum wind speeds at landfall were about 210kph, the system decelerated dramatically down to about about 7kph, and it is currently just at 'tropical storm' strength and heading south-west across the South China Sea towards southern Vietnam.
Having said that, and at the risk of being contentious, the international media hyped the situation out of all proportion. The Philippine Atmospheric, Geophysical & Astronomical Services Administration (PAGASA) got it about right with their Storm Signal Number 3 (out of 4) level for those areas within the probable 150km diameter of the centre of the storm. Tacloban, where naturally a lot of the media focused their attention, was never within that area and they were under Storm Signal Number 2. Of course everybody should prepare for the realistic worst case scenario, which is what we did here and most other people seemed to do elsewhere, but so-called 'live' media reporting was totally unbalanced. In fact, as the wind speeds dropped, rainfall was not excessive and the storm surge did not occur, the media focused their attention on their own forecasts of impending disaster in areas in advance of the path of the storm and almost completely neglected to inform us how conditions actually were in the areas where the storm had already passed. Those forecasts were at the extreme end of the probability scale and, mercifully for all concerned, they never came to pass.
For people due to travel to the Philippines in the coming days and weeks, who are concerned about the situation, please seek accurate information from people actually on the ground in areas where you will visiting, in particular from the hotels you will be staying at. You will almost certainly find that those areas are in good condition and really want to receive visitors.

December 6th, 2014.
Typhoon Hagupit (Ruby) is following the predicted path and we still expect it to pass about 300km to the north of us. With an estimated diameter of 600km that puts us right on the edge of the rain and wind bands. As at the time of posting this update (2pm) we are starting to experience some small wind gusts and very light showers.
We have finalised our preparations for the storm and are confident that everything will be in good shape when the storm moves away tomorrow afternoon. We do have contingency plans in case the proximity and severity of the typhoon is greater than predicted and we are monitoring the storm closely as it slowly approaches north eastern Samar.

December 5th, 2014.
Typhoon Hagupit (Philippine name Ruby) is currently positioned about 550km ENE of us and is moving in a WNW direction at about 12kph. It is expected to make landfall, late on Saturday 6th or early on Sunday 7th December, towards the northern end of Samar island, more than 250km north of us. Although currently weakening, and forecast to continue doing so, it will still be a very powerful typhoon upon landfall. Assuming that the storm follows its predicted path we are expecting to be affected here by strong winds, around 60kph, and significant rainfall for a 24 hour period starting tomorrow afternoon. We have made preparations and contingency plans in case the typhoon passes closer to us than is expected.
There is a huge amount of information and awareness about the typhoon, with wall-to-wall TV coverage. We were in Tacloban on Wednesday, and people were already stocking up on food, drinking water and flashlights. TV reports show that people are evacuating from hazard prone areas in the forecast path of the storm. This contrasts with Typhoon Haiyan last year when people paid little heed to the less well communicated warnings or even disbelieved them completely. Hopefully this awareness, the preparations and the continuing weakening of the typhoon will mean that there will be far, far fewer casualties than in previous storms of this magnitude which have hit the Philippines.
We will be posting updates on local conditions as the typhoon moves across Samar and then further away from us.

November 16th, 2014.
It's been a quiet week here in Padre Burgos with no guests undertaking any whale shark, snorkeling or dolphin watching tours. We were, however, watching some pilot whales and spotted dolphins from the swimming pool on Friday afternoon. Sogod Bay is rich in marine life due in part to the very deep water (over 1,000 metres in places) in the bay, and it is rare, but a real thrill, when the dolphins come into the shallow water close to the shore. Weather conditions continue to be absolutely superb, and we could do with some rain to freshen things up as the last rainfall was well over 2 weeks ago. We're taking advantage of this quiet spell by doing some re-planting in the garden and some touch-up painting in the bar and restaurant.

November 9th, 2014.
We've been running some fantastic Limasawa Island tours recently watching dolphins and snorkeling with sea turtles every time. Yesterday we ran the tour with 1 diver and 1 snorkeler doing 3 dives/snorkels, watching about 500 spotted and spinner dolphins, visiting the site of the First Mass and enjoying a wonderful barbecue lunch at the beach in perfect weather - and the guests enjoyed all this in splendid isolation with no other tourists around. This is a great option for mixed groups of divers and non-divers to spend the day together, and we run similar combined dive/snorkel tours to other wonderful sites in and around Sogod Bay.

November 1st, 2014.
Our first whale shark tour of the season today was a great success despite some rain during the morning. There were no other boats or tourists around and our 2 guests loved seeing 1 whale shark and 5 separate pods of dolphins, including spinner dolphins, Fraser's dolphins and melon-headed whales. It was also the first tour of the season for the local guides and spotters and it took them a while to get organised this morning, so we had to skip our visit to the site of the First Mass but we managed some excellent snorkeling in the late afternoon seeing a couple of sea turtles to round off a truly superb day.

October 29th, 2014.
The Whale Sharks Are Back!
Right on cue, the whale sharks have now 'returned' to Sogod Bay and hopefully the season will run all the way through until next June. The 'early season' is a fantastic time to see whale sharks in Southern Leyte, with great weather and a very high likelihood of being able to snorkel with these magnificent creatures all on your own. The word 'returned' in the opening sentence above is enclosed in quotation marks as one of the many unknowns about the whale sharks is where they are when they are not here! There are nearly as many different theories as there are marine biologists working to answer that question, as well as many others, about whale shark behaviour. During our tours we endeavour to give guests as much up-to-date information about the whale sharks as we can, and, in addition to your enthusiastic and knowledgeable guide, a full-time marine biologist often joins guests on the boat to do just that.
So come and enjoy what is by far the best whale shark experience in the Philippines, if not the world!

October 20th, 2014.
After a week of either completely calm weather or light breezes from an easterly direction, it seems that the south-west monsoon has come to an end. When we get some stiffer breezes and stronger wave action the sand will return to the inter-tidal area at our stunning private beach. More significantly we can expect the reappearance of the whale sharks any time now. In anticipation of the new whale shark season we have constructed a new dinghy which will make accessing our lunchtime beach cottage much easier. This dinghy will also be available for local snorkeling trips for up to 4 guests and for solo scuba divers with their dive master.

September 30th, 2014.
The weather continues to be generally very good, but with a little more rain and considerably less wind than we normally experience during the habagat season. As this season is drawing to its close it is time to look forward to the return of the whale sharks to Sogod Bay which, if we are lucky, should occur near the end of October. Sogod Bay remains by far the best place to see whale sharks - very few people, a totally natural environment with no artificial feeding, only snorkeling and not diving permitted, and well managed regulations for the whale shark interaction. We will again be running fantastic full-day whale shark watching tours for groups of 2 to 6 people all the way through to the end of the season around the end of May.

August 28th, 2014.
Happy Fiesta! Today is the memorial day of St Augustine of Hippo, the patron saint of Barangay Tangkaan, and the fiesta is a time for church services, family gatherings, eating and drinking, and public entertainment. The main entertainment event in the village was a dance show and junior singing competition won by a very talented girl whose height did not seem commensurate with the maximum age limit of just 13! The Catholic chapel also christened 5 babies including Delia's grandson, Kent John Philip.
The weather continues to be generally excellent with very little daytime rainfall and, rather unusually for this time of year, plenty of completely calm days. We saw lots of spinner dolphins on our tour this afternoon, which preserves our 100% success record on our dolphin watching tours.

August 19th, 2014.
After 3 weeks of non-stop sunshine and gloriously clear night skies, we finally got a little rain at the end of last week with 3 showery mornings and a couple of overnight downpours. The showery weather has now cleared away and we are again enjoying cloudless skies and hot sunshine. Conditions for diving, snorkeling and dolphin watching are superb with excellent water visibility and, at most, gentle waves, and the light breezes have been excellent for relaxed sailing.

August 8th, 2014.
We finally re-launched our motor banca, Monarch of the Bay, 2 days ago and yesterday we ran a great snorkeling tour visiting the contrasting sites at Tangkaan, Limasawa and Napantao, enjoying a superb barbecue lunch at the beach, and watching a pod of spinner dolphins along the way. There was a surprisingly strong current at the point at Napantao and the guests ended up on the 'wrong side' of the reef, and had to swim to shore and clamber over the rocks to get back to the slack waters on the 'right side' of the reef. Moral of the story - listen carefully to the guidance given before you start snorkeling, and be aware of your surroundings at all times!
After the rather damp July we experienced (by our normally dry standards) we are enjoying glorious weather with lots of sunshine and no rain at all during the last 2 weeks. The habagat south-westerly wind has occasionally been quite strong, but our private beach is sheltered and lovely and calm, beautiful snorkeling is always available, and sailing conditions are excellent!

July 31st, 2014.
We have been enjoying lovely weather over the last 3 days, but overall July has been wetter than we would normally expect with rain falling on about 10 days during the month. Last Sunday's Limasawa Tour started off in very nice weather, but a strong wind picked up in the late morning, so after 2 great snorkeling stops and a lovely barbecue lunch on the beach at Limasawa we had to skip the walking tour of the island as the boat captain rightly wanted to return to Padre Burgos. The guests were rather disappointed but as we threaded our way through big waves out in the middle of the bay, they definitely appreciated the wisdom of the captain's decision. On all boat tours it is the captain's right, indeed his duty, to vary the pre-planned itinerary, or even cancel it altogether, according to weather and sea conditions.

July 13th, 2014.
This morning started off rather showery, but the sun reappeared shortly after breakfast continuing the beautiful weather we normally enjoy at this time of year.
We decided to replace some of the bamboo floaters, or stabilizers, on the Monarch of the Bay so the re-launch date is postponed until July 25th to give the bamboo, and the new paint, time to dry properly. This has no adverse impact on guests who continue to enjoy our superb boat trips in chartered boats.

June 27th, 2014.
Today we put our motor banca, Monarch of the Bay, into dry dock for routine maintenance and re-painting. So long as no time consuming repairs are required, and we have dry weather, the plan is to re-launch her on July 11th. In the meantime, snorkeling trips, dolphin watching, Limasawa Island tours, etc. are all still available using nice chartered boats.

June 11th, 2014.
It's over! We'd love to be proved wrong, but we don't expect to see any more whale sharks until the start of next season, around the end of October.
After nearly 2 months of continuous sunshine with no wind, we are now getting some nice south-westerly breezes indicating the start of the habagat or south-west monsoon. The word 'monsoon' conjures up images of torrential rain and horrendous flooding. Fortunately, here in Southern Leyte, we are sheltered from this weather and we usually enjoy lots of sunshine, fresh breezes and overnight or early morning showers, the last of which will be extremely welcome. Water visibility is excellent and diving, snorkeling, sailing and dolphin watching conditions are all superb.

May 26th, 2014.
We were just about to declare the whale shark season in Southern Leyte as being over when we started seeing whale sharks again regularly. With superb, warm and sunny weather and calm seas, it is a great time to snorkel with the world's largest fish. Our fabulous full day whale shark tours also include dolphin watching, snorkeling in a wonderful marine sanctuary, a visit to the birthplace of Christianity in the Philippines and a delicious barbecue lunch at the beach.

May 17th, 2014.
We're enjoying perfect beach holiday weather at the moment with sunshine from dawn to dusk every day and afternoon temperatures in the mid 30's Celsius (mid 90's Fahrenheit). While great for guests, this weather is not so good for the garden and some, preferably overnight, rain would be very welcome. With no rain and no more than gentle waves for a month, the water visibility is superb and diving and snorkeling conditions are outstanding.
There is also considerably less plankton in the water, which improves the visibility but means that hopes of seeing whale sharks again before the start of next season in late October are fading very fast. On our Limasawa Island tour yesterday we saw well over 100 short finned pilot whales which is the largest pod we've come across. Dolphins, mainly pan-tropical spotted dolphins and spinner dolphins, as well as pilot whales are abundant the whole year and we see them on nearly all our Limasawa Island tours and 100% of the time on our dolphin watching trips - so far, at any rate!

May 5th, 2014.
About 3 weeks ago the weather finally turned to the seasonal norm of hot, dry and sunny and we could now do with a couple of good, heavy downpours. Winds have been almost non-existent and diving and snorkeling conditions are absolutely first class, while opportunities for sailing have been rather rare.
There have been no reports of whale shark sightings for nearly a month now, and we have been advising guests that it is extremely unlikely they will see a whale shark until, and unless, we hear of more sightings. Accepted wisdom, both local lore and scientific theory, is that the whale sharks are still around but staying in deeper water. If there is a concentration of food in a particular area, then we may well still get whale sharks congregating at that place but for now we're enjoying all the other wonders of Sogod Bay.

May 1st, 2014.
We are now offering scuba diving for very small groups with experienced and knowledgeable local dive masters. This is for private groups of 4 to 6 divers, or mixed groups of a maximum of 4 divers. For private groups, the programme is tailored to suit your wishes but generally we do 2 morning dives, return to the resort for lunch with an afternoon dive and/or a night dive also being available. We try to plan the itinerary so that we are the only boat at the site we are diving, and this is usually the case, to give our guests the feeling of ultimate exclusivity. Please contact us by phone or e-mail for more details.

March 30th, 2014.
Although the winds have now abated, and we are enjoying lots of sunshine, the weather remains rather unsettled for late March and most days see a shower or two. Despite the heavy overnight rain associated with Tropical Depression Caloy last Saturday, which washed millions of coconut shells and other debris into the sea, the water visibility is absolutely superb and snorkeling and diving conditions remain outstanding. We are seeing sea turtles on just about every snorkeling trip, which is always a thrill, and have seen over 600 dolphins (a mix of pan-tropical spotted dolphins, spinner dolphins and melon headed whales) on our tours over the past week.
The whale sharks are proving to be rather elusive once again. The current theory, developed by the marine biologists studying the whale sharks here, is that the sharks come to the surface to warm themselves rather than specifically to feed. Although I'm not really convinced by this theory (why do they come here during the cooler north-east monsoon) it does give grounds for optimism as the sea temperatures are significantly warmer than they were a month or so ago. There is also lots of food in the water so, if you're unconvinced by the warming theory, you can take comfort from that.

March 18th, 2014.
Although the rainy weather of a week ago has cleared away, we are still experiencing unseasonably windy days and choppy seas, which is unusual for the middle of March. With guests who are extremely keen snorkelers we have been using all our local knowledge to find excellent, varied snorkeling in places with calm seas. Most crucially, with the help of a network of contacts around the bay, we are still finding whale sharks, and the enjoyment of the guests has been enhanced by being the only people swimming with the whale sharks on each occasion. Of course, the consistent winds are making for great sailing conditions with big waves and lots of spray!
Easter, or Holy Week as it is referred to in the Philippines, will soon be upon us and while many places will be overrun with local and foreign tourists, if you want to find peace, tranquility and fabulous eco-adventures then Southern Leyte is the place to visit. Stay tuned!

March 9th, 2014.
Whale Sharks Again!
Based on information from a reliable local source, we took 2 guests to a different area of the bay in search of whale sharks on Friday. No sooner had we arrived at the area, than we saw the dorsal and tail fins of a whale shark feeding actively at the surface. Once snorkeling in the water we realised that there were actually 4 of them in very close proximity, and we spent an amazing 40 minutes with them feeding and circling around us. Not surprisingly other guests were very keen to enjoy the same wonderful experience and we returned yesterday seeing 3 whale sharks plus over 100 spotted dolphins on the way there. With the place, and the whale sharks, all to ourselves on both occasions it really was a wildlife encounter out of the top drawer. And we are looking forward to more of the same!

February 17th, 2014.
On Valentine's Day we were delighted to host the religious marriage affirmation of Davis and Brianna, following their civil wedding in the US at the end of January. They had a lovely ceremony in the stunning surroundings of our private beach, followed by a wonderful reception lunch in the restaurant. For small parties of up to about 20 people, Padre Burgos Castle Resort is a superb venue for a wedding ceremony and/or reception, as well as a first class destination for an idyllic tropical honeymoon.

February 1st, 2014.
A tropical depression passed nearby last night bringing lots of rain and strong winds. The Philippine weather service called it a tropical storm, but whatever its definition it was a nasty piece of weather. Prolonged, heavy rains in the mountains during the middle of January have eroded the main road at Agas Agas and the route to Tacloban currently needs to pass through Baybay. This adds an extra 40 km to the journey but we are keeping the price our airport transfers unchanged. Anyway, February dawned with a spectacular sunrise and we now have clear blue skies, a delightful south-westerly breeze, and glorious powdery sand at the beach.
Whale shark sightings continue to be very irregular and we ran 2 tours during January without finding whale sharks. With lower water temperatures, increasing amounts of plankton and February sunshine, we are still optimistic that we will get some good, reliable whale shark watching now we are approaching mid-season.

January 16th, 2014.
The sun is back! Last week a weather disturbance charged across the north-western Pacific and then parked itself just off the east coast of the Philippines, bringing a few days of rain and strong winds. Although we're not yet back to full on sunshine, we've got some nice dry, calm conditions ideal for diving, snorkeling, dolphin watching and relaxing at the beach without getting burnt to a crisp. A plus side of the strong winds and associated waves is that the sand, last seen in early November, has at last returned to the inter-tidal area at our private beach and it's looking really great down there.

January 6th, 2014.
The Festive Season is now over and 2014 is underway. To get the year off to a flying start we are offering Free Dolphin Watching for 2 people with bookings in January of 4 or more nights.
Whale shark sightings continue but none of our guests, or those of other resorts, have taken their chances on a whale shark tour recently so the fisherman are enjoying them undisturbed by tourists! Stay tuned for news of the first whale shark tours of 2014.

January 1st, 2014.
Happy New Year!
We enjoyed a fabulous New Year's Eve dinner last night with free flowing wine, and then champagne and fireworks at midnight.
There's better news on the whale sharks, with regular sightings in the expected area over the last several days. If we get positive news of more sightings tomorrow then we should be running a whale shark tour on Friday and hoping for 3rd time lucky!

December 28th, 2013.
Merry Christmas!
Our Christmas Eve dinner was a huge success with a great spread, including traditional (British) roast turkey. We were delighted to host a group of aid workers taking a well deserved short break from their excellent work in and around Tacloban.
The news on the whale sharks is still not great and we didn't see any on our tours last week, although a group of divers saw one at Napantao 4 days ago. The dolphin watching has, however, been outstanding often seeing separate pods of different species of dolphins on our tours. The guests going out today have advisedly switched from a whale shark to a Limasawa Tour and we are looking forward to some great snorkeling, a superb barbecue lunch and lots of dolphins!

December 18th, 2013.
Another superb Limasawa Island Tour yesterday, in perfect weather conditions. We saw lots of dolphins both in the morning and the afternoon, although they were not as 'playful' as they usually are and we couldn't get closer than about 20 metres away from them. We varied the programme to suit a family of 4, 1 of whom was a diver and he dived at Gunter's Wall and Adrian's Cove while the rest of the family enjoyed the superb snorkeling at both sites. Today the same guests are taking a whale shark tour, and a dive master will again accompany us to do a morning dive at Napantao. Stay tuned for news of our first whale shark tour this season.

December 11th, 2013.
Wind at last! After several completely calm days, with the breeze only kicking in about 4.30 in the afternoon, it was nice to get out sailing again yesterday. There was a really nice light wind and hot sunshine in the morning, which made for ideal conditions to give our new beach attendant, Marken, his first sailing lesson. The clouds rolled in after lunch, and as they did so the wind and waves picked up for some exciting sailing conditions later in the day.
The warm, tropical waters of Sogod Bay make for ideal sailing conditions, and we run superb skippered sailing tours around the bay. If you want to learn to sail, or you haven't sailed for a long time, we run introductory sailing lessons and refresher courses. If you're already a competent sailor, we'll give you a quick safety briefing and you're good to go on your own or together with up to 3 friends.

December 6th, 2013.
Another superb snorkeling and dolphin watching tour today, with stunning weather. With our new motor banca, 'Monarch of the Bay', we are now running a variety of boat tours in addition to our fabulous whale shark and Limasawa Island tours. For keen snorkelers there is a choice of a 1, 2 or 3 site tour taking in the best snorkeling spots in Sogod Bay. These are nearly always devoid of other snorkelers and the scenery above the sea is equal to the magnificent underwater views.

December 4th, 2013.
Absolutely stunning weather today, bucking the recent trend with a fresh north-easterly breeze this morning and an absolute flat calm this afternoon. Temperatures were up in the mid 30's Celsius and it felt more like May than December. Before the storm our private beach had been looking superb with a great covering of powdery white sand on the inter-tidal area. All that got ripped away, but it is slowly returning and the permanently dry area is always sandy. Most importantly the house reef was not damaged and the water visibility at the moment is just superb.

December 2nd, 2013.
Festive Spirit! In the Philippines they say that every month ending in 'ber' is a Christmas month, which is just about true but we take a more measured approach and put up our Christmas decorations on 1st December. So we are now looking very festive and getting into the Christmas spirit.
We still have availability for both Christmas and New Year and are again offering packages including gala dinners with free flow wine, 'champagne' breakfasts, midnight 'champagne' and fireworks on New Year's Eve, and unlimited complimentary sailing and kayaking for the duration of your stay.

December 1st, 2013.
We are having beautiful weather at the moment, usually calm in the mornings with the breeze picking up in the afternoon for some great sailing. The dolphin watching is superb, and we are seeing dolphins on all our tours.
More flights are now operating in and out of Tacloban, both from Manila and from Cebu.

November 28th, 2013.
The whale sharks are here! There have been a number of reports of whale shark sightings from local fishermen. It appears that they have not yet established a regular pattern, as is usual at the start of the season as the plankton is not yet as dense in the whale shark sanctuary and the whale sharks are dispersed over a larger area in search as food. Of course, tourist numbers are very low and early season tours are a great time to enjoy whale shark watching with no other snorkelers around.

November 26th, 2013.
Typhoon Haiyan (Yolanda) Update.
The mains electricity supply was restored to Padre Burgos yesterday afternoon, and our free Wi-Fi internet connection today. Banks are open for the normal hours and ATM's are available 24 hours a day. So now all things here are completely back to normal.

November 22nd, 2013.
Typhoon Haiyan (Yolanda) Update.
We went to Maasin City today, which at 30 km away is the nearest place of any size and is also the provincial capital of Southern Leyte. There was plenty of traffic and the place was busy and bustling, and a little bit noisier than normal as many places are running generators. Not all the petrol stations were open but there were no queues at those that were and fuel (both diesel and petrol) is in plentiful supply. All the banks and ATM's seem to be open, although some are operating for restricted hours. All the shops were operating as normal and there are plenty of supplies.
As far as electricity is concerned there is good and not so good news. The good news is that some huge generators delivered by US navy ships are being installed and electricity is expected to be supplied for several hours a day starting sometime next week. The not so good news is that the transmission lines from the huge geothermal plant near Ormoc suffered quite extensive damage and repairing them is a significant job. There are statements from the national Department of Energy saying they are committed to restoring full electrical power, not just to Leyte but to Bohol and Cebu which are also served by the Ormoc plant, well before Christmas. Let's hope so, but in the meantime the resort's power needs are being served amply by our generator.

November 16th, 2013.
Typhoon Haiyan (Yolanda) Update.
Those things that weren't working properly at the start of the week are now improving. The ports of Ormoc, Hilongos, Bato, Maasin, Liloan and Surigao are all working normally with regular ferry connections to and from Cebu City, Bohol and Surigao. Supplies, most importantly food, water and fuel, are being delivered by these routes. The banks are getting back on line, although there are long queues. The road at least as far as Ormoc is in good condition and public as well as private transport is using this route without any problems. It is also possible to drive to Tacloban, although actually going in to Tacloban at the moment is not advisable. There is still no official schedule for reconnecting the electricity supply but with fuel available resorts, hotels, dive shops, banks, medical centres and shops equipped with generators are able to operate more or less normally.
It's beautiful weather here in Southern Leyte with lots of sunshine and fresh north-easterly breezes. And with even less light pollution than normal, the night sky is a joy to behold.

November 12th, 2013.
Typhoon Haiyan (Yolanda) Update.
After the weekend businesses re-opened on Monday, and some problems started to surface. The banks' communication networks are down so there are no banking transactions at the moment, and only 1 ATM in Maasin City is operational - with a huge queue of people waiting to withdraw cash. People have stockpiled on fuel, some of them to re-sell it vastly inflated prices, so there is no diesel and very little petrol available. Supply chains are being re-routed to come by ship from Cebu and fuel deliveries are expected in the next day or 2. On the positive side, all roads are open, and there is plenty of food and drinking water. Again re-supplying will be done by ship rather than overland from the north of Leyte. There is no schedule for the electricity to be reconnected, although the distribution network is operational and will work when the supply to Southern Leyte is available again.
We have no first hand information on the situation in northern Leyte. Communication lines are down and our only information comes from the news. The situation there is obviously catastrophic and our hearts go out to all those there, and on other islands, who have perished, been injured and continue to suffer as a result of this massive storm.

November 8th, 2013.
Typhoon Haiyan (Yolanda) Update.
Super Typhoon Haiyan (Philippine name Yolanda) traversed northern Leyte this morning. Down here on the most southern tip of the island we experienced very strong winds between 6am and 10am, before things started to settle down. Around the local area a number of trees have been brought down, including the mango tree we have been nurturing for the past 5 years, but thankfully there are no significant injuries to people or damage to property. There is currently no electricity supply so we are running our generator and the internet connection is painfully slow. It's going to take a couple of days to clear all the leaves and small tree branches from the beach and clean out the swimming pool, but otherwise the resort is functioning as normal.

November 2nd, 2013.
The weather has changed and we have now seen the back of the south west monsoon or 'habagat'. For the next 7 months, whatever wind there is is almost certain to come from the north east. This will bring some significant changes: sailing conditions should be consistently excellent; sand is already returning to our private beach; and, above all, the whale sharks will soon return. The modifications on our boat are ahead of schedule and the plan is to re-launch the 'Monarch of the Bay' at high tide on Monday evening.

October 24th, 2013.
Although the 'Monarch of the Bay' has run well during extensive sea trials as well as on some great dolphin watching and snorkeling tours over the past week and a half, we've taken the tough decision to make a significant adjustment which means she will be out of commission for the next 2 weeks. When she's back in the sea the smoothness of the ride will be significantly better and definitely worth the time (and money) to get her in tip top condition for the forthcoming whale shark season. In the meantime, guest service will be unaffected as we will be using chartered boats for our dolphin watching, snorkeling, island hopping and, if we're lucky, whale shark tours. Fear not, the 'Monarch' will soon be gracing the 'Bay' again.

October 21st, 2013.
After a lot of hard work we launched our superb new motor banca, 'Monarch of the Bay', last Tuesday. After looking forward to the event for over 3 months the maiden voyage, driving the boat 30km down the bay from Sogod, was undertaken in lashing rain and an ear-splitting thunderstorm! The formal blessing, conducted by the local priest, took place on Saturday and was followed by a great lechon barbecue and free-flowing drinks down at the beach. We're still tinkering with some minor refinements, but the boat is now good to go for snorkeling trips, whale shark tours, dolphin watching and island hopping. Come and enjoy!

October 15th, 2013.
Earthquake News!
The Bohol centred earthquake this morning was very noticeable here, as were some much weaker aftershocks in the afternoon. Thankfully no damage to people, property or infrastructure occurred here in Southern Leyte, and everything and everybody is operating as usual. Our hearts go out to those, including our own close relatives, far less fortunate in Bohol and Cebu.

October 11th, 2013.
Tropical cyclones are currently trundling their way across the western Pacific with great regularity and Typhoon Nari (Philippine name Santi) is about to make landfall on Luzon. Here in Padre Burgos we are basking in hot, sunny weather albeit with a strong south-westerly breeze giving choppy conditions out in the bay and on south and west facing shores. At this time of year cloudy days are not uncommon, but for 9 days out of 10 during the 'rainy season' it is dry all day long, with the whole month of September seeing a total about 4 hours daytime rainfall.

September 17th, 2013.
The beautiful weather continues, with afternoon temperatures regularly into the mid 30's Celsius. After a prolonged period of very calm weather we've enjoyed some lovely breezes recently and the sailing has been sensational. Diving and snorkeling conditions are also excellent, as usual, and dolphin watching is as always very reliable and totally uncrowded. We are now completely booked out over New Year but still have a little availability up to 30th December for people looking to spend Christmas in an idyllic beach environment.

September 8th, 2013.
We are now into the low season months of September and October. As I have said here many times, the 'rainy' season is really a misnomer as far as this part of the Philippines is concerned. We were away for most of July, but the whole of June saw only about 4 hours of rainfall during daylight hours and August was not dissimilar. We expect similar weather during the rest of the 'rainy' season in September and October, but usually with less wind as the habagat (south west monsoon) draws to an end. Indeed the last 10 days have seen very little wind, which is not so encouraging for sailors, and the whale shark watching will only get better as the main season approaches. Looking a bit further ahead, we still have some very limited availability over the festive season, and are again offering gala dinners with wine, 'champagne' breakfasts and complimentary water sports - so make sure you make your reservations very shortly.

August 28th, 2013.
Dry and breezy weather has prevailed for the past couple of weeks, and there have been excellent sailing conditions. With a drop in the wind and waves yesterday we ran an excellent Limasawa Island tour. After experimenting on the previous tour we have modified the itinerary slightly and now take a lovely 15 minute stroll after lunch at the beach through one of the barangays (villages) to reach the site of the First Mass, and meet up with the boat again at Magellanes. There was a southerly breeze yesterday morning, and the resulting waves meant we didn't see dolphins until after lunch when we found about 40 Fraser's dolphins. These are less common, and if yesterday was typical, also less 'playful' than the pan-tropical spotted dolphins which we see most often. The other types of dolphins we see regularly in Sogod Bay are spinner dolphins, short finned pilot whales, melon headed whales and pygmy killer whales.

August 8th, 2013.
Some adventurous guests tried their luck at finding whale sharks yesterday, which was the first time we'd run a tour since the middle of June. Despite very calm conditions, and reports from local fisherman of 4 whale sharks having been seen in the same spot on the previous day, we failed to find any whale sharks in our 3 hours of searching. We also discovered that the beach cottage we rent for the barbecue lunch is being decommissioned so we'll need to find an alternative for our next tour. On the much more positive side we spotted sea eagles, turtles, enjoyed some fabulous snorkeling and rounded of the day in the company of about 100 spotted dolphins who were close enough to touch (which we didn't, naturally).

July 27th, 2013.
Delia, Nikka and I have now returned from a wonderful holiday and fabulous weather in the UK, with the family getting together to celebrate Dad's 80th birthday. The reports are that the whale sharks are still here, but a flat calm day is required to stand a good chance of locating them. Dolphin watching is a year round activity, and this morning we set off under challenging conditions with very threatening skies and still enjoyed 45 minutes watching about 150 spotted dolphins. We'd managed to stay away from the darkest clouds while looking for them, but got well and truly drenched on the way back to the resort. Judging from the smiles on the guests' faces it was well worth getting soaked, and our 100% record of finding dolphins on our 2-hour dolphin watching tours remains intact.

June 28th, 2013.
The excellent weather continues, with almost no rain during daylight for the whole month but regular rainfalls during the night which is just perfect, and after the 'drought' in March, April and May everything is looking lush and green again. Still no sign of the habagat, or south west monsoon winds, taking hold and whale shark watching is still available. We've now started work building our new boat, to be named 'Monarch of The Bay' which should be commissioned during September.

June 12th, 2013.
The whale shark season continues! We ran another whale shark tour yesterday, seeing 3 whale sharks in very quick time. After an hour of almost continuous swimming the young families were well satisfied and if we had stayed longer we would surely have seen several more whale sharks. The weather is now changing and after 3 months of almost unbroken sunshine we are seeing a few showers and the wind direction turning to the south-west. At the moment the winds remain very light so whale shark watching is still excellent but this is not expected to last for much longer so make the most of the opportunity while it does.

June 2nd, 2013.
The stunning weather continues. We've now had 3 months of almost completely dry weather, and temperatures over the past few weeks have been consistently in the mid 30's Celsius. The past couple of weeks have been very calm so there has not been much sailing action but conditions for all other activities, as well as just relaxing at the beach, have been perfect. Whale shark sightings continue to be consistent and reliable, and things are looking very good for the group who have booked a whale shark tour for 11th June - which will be our latest ever whale shark tour if it goes ahead.
The 'summer' season is now upon us, so check out our Hot Deals for some great discounts!

May 12th, 2013.
Swimming with mantas! On our whale shark watching tour last Friday, our local guide spotted a shadow moving in the water and gave the signal for us to jump and swim in the direction of the shadow. To my surprise what appeared in front of me was a beautiful manta ray rather than a whale shark. These are very uncommon in Sogod Bay, although there had been reports of sightings over the past couple of weeks. As if to prove the unpredictability of nature we failed to find a single whale shark that afternoon, although 4 had been seen by snorkelers during the morning. Undeterred our 2 guests returned the next day and were treated to 6 whale sharks, as well as about 200 dolphins. The whale shark count is an estimate, because on our 2nd swim there were several swimming in a very small area and it was very difficult to work out how many different ones there were. Sightings of wild animals can never be guaranteed, and the whale sharks have proved elusive on the odd occasion, but things are looking promising for another month of excellent whale shark watching before the season draws to a close.

April 28th, 2013.
Stunning weather and even better whale shark watching! Last Saturday we had continuous drizzle all night, but that apart there has been virtually no rain since the beginning of March. There have been a couple of flat calm days, but most of the time we're enjoying lovely fresh breezes and having some great sailing conditions.
The whale shark watching is just sensational. Yesterday ours was the only boat at the sanctuary and we saw 11 whale sharks - an all time record! The Physalus conservation group have now identified about 50 different whale sharks since they arrived here in early February. Nothing is for sure, but things are looking good for excellent whale shark watching through to the time when the wind will turn to the south west around early June. We shouldn't forget the dolphins, as we have been enjoying some great dolphin watching on all our recent whale shark and Limasawa tours. We've also seen turtles every day while snorkeling at Limasawa, and yesterday also lots of squid and some huge jacks among the myriad of other fish and amazing corals.

April 12th, 2013.
The whale shark watching is just getting better and better! After seeing 10 whale sharks on 3 separate tours last week, we saw a season's record (so far) of 6 on today's tour. With the whole area to ourselves, the 2 guests on today's tour had a fantastic start to their first ever trip to the Philippines and commented that the journey from Austria was worth it just for today's experience. We missed out on dolphins today, but snorkeling with a turtle at Limasawa Island was ample consolation.

April 5th, 2013.
It was comparatively busy here in Southern Leyte during Holy Week. With Easter Sunday falling on 31st March, which is the exact anniversary of the First Mass, there were many visitors at Limasawa Island over the weekend. But away from the focus of the anniversary it remained wonderfully peaceful for diving, snorkeling, dolphin watching and swimming with whale sharks. A special mention to young Anton, currently residing in Singapore, who at 7 years of age became our youngest guest to swim with the whale sharks. Our oldest guest doing so was 84, so it really is an activity everyone can enjoy.

March 25th, 2013.
Summer has arrived early, and we are enjoying a prolonged dry spell of excellent weather with some great breezes for really enjoyable sailing. Whale shark watching continues to be excellent, with guests seeing whale sharks on every tour.

March 11th, 2013.
As anticipated, we are now experiencing much more stable and sunny weather, with hardly any rain since the beginning of the month. The north-easterly wind pattern continues but the sea is generally much calmer than a few weeks back. (Does anybody know why the same strength winds produce smaller waves in March than they do in January?) Sailing, swimming, snorkeling, and diving are all excellent, and whale sharks are being seen on all whale shark tours, with 4 or 5 per tour being the norm.

February 21st, 2013.
After advising the guests on today's tour that whale sharks were still difficult to find, we were rewarded with over 35 minutes right alongside a 6 metre whale shark. March and the advent of the 'dry' season here in Southern Leyte are just around the corner, and we can expect great conditions for all activities and some excellent whale shark watching.

February 2nd, 2013.
More fabulous dolphin watching yesterday! This has to be one of the very best areas anywhere to watch dolphins: there are plenty of dolphins to be found; dolphins are here all year round and can be seen at any time of day; with so few tourists there is never more than 1 boat watching dolphins at any given time. Yesterday we saw a few pilot whales and a pod of over 50 spinner dolphins, with some of the latter swimming leisurely on their backs beneath the boat and looking up at us for some people watching!
Unfortunately the whale sharks are not as easy to find as we would expect at this time of year, and 2 consecutive tours have failed to find any. Of course, if you don't look for whale sharks you won't find any, but if you are going on a tour over the next few days you are well advised to consider seeing whale sharks as a great bonus rather than the only goal of your day's outing.

January 29th, 2013.
More great, calm and sunny weather for the past 4 or 5 days. This has not been much good for sailing, but all other activities such as diving, snorkeling, swimming with whale sharks, dolphin watching, and just soaking up the sun at the beach have been superb.

January 15th, 2013.
For the past few days we've enjoyed some glorious, calm and very sunny weather and we took full advantage of the conditions yesterday with another wonderful whale shark tour. Using the new large banca we have available, we took 6 guests who saw well over 100 dolphins and had 30 minutes swimming right up close with a magnificent 7 metre whale shark. Although the large banca can easily accommodate more guests, we much prefer to keep the group size to a maximum of 6 guests to give a better experience for everyone. And the small banca is still available so we can stil offer whale shark watching, Limasawa Island and dolphin watching tours for a minimum of just 2 people.

January 5th, 2013.
Happy New Year!
We've had mixed weather over the festive season, with the most siginificant factor being fairly continuous moderate to strong winds. This has interfered with our whale shark watching and caused a number of tours to be postponed. But we managed 5 tours, one time taking 9 guests in 3 boats, seeing a total of 16 whale sharks and several hundred dolphins and all our guests who wanted to take a tour were able to do so. We've added 2-hour dolphin watching tours to our programme of activities, and these have been very popular with guests not wishing to undertake a full day whale shark or Limasawa Island tour. We now also have a larger boat available for all our tours which is great value for groups of 4 or more people.
Our Christmas decorations will be coming down tomorrow signalling the end of a very busy and immensely enjoyable festive period. We look forward to seeing you in 2013!

December 16th, 2012.
3 whale sharks, over 100 dolphins and 50,000 huge fruit bats was today's count! Actually we saw the same whale shark twice (but who's counting anyway), and after having swum with it for 40 minutes the first time we were very familiar with it. Again we found the 1st whale shark immediately upon arrival at the sanctuary, and were later spoilt for choice when we spotted 2 whale sharks simultaneously. The dolphins yet again put on a great show for us on our journey back to the resort, and we were then treated to a spectacular and colourful dusk made even more amazing as thousands of huge fruit bats filled the sky, some flying just a few feet above the boat. With outstanding morning snorkeling at Limasawa, a visit to the birthplace of Christianity in the Philippines and a tremendous barbecue lunch it was another unforgettable day!

December 15th, 2012.
4 whale sharks and probably about 200 dolphins on today's whale shark tour. The weather didn't look too great at 7.00am this morning, with overcast skies and a few showers around and 2 of the 4 guests cried off. (Note that we cancel the tour if the boat captain says the weather is too rough to go, but it is a 'rain or shine' tour and guests will be liable for some costs if they cancel at the last minute.) Anyway, the 2 guests who did brave the early morning weather were amply rewarded. We had some nice sunshine for the snorkeling at Limasawa Island and after a choppy sail across the bay we had a great barbecue lunch enjoying the superb views. After lunch the weather was still a bit threatening, but we saw 1 whale shark right away which put everybody in a great mood. The sun came out and the next whale shark was absolutely superb - a 7 metre shark feeding with a wide open mouth just below the surface for about 15 minutes. Just as that one started to disappear from sight a 'baby' (about 4 metres) appeared and 30 minutes later we found our 4th whale shark of the afternoon. After so much activity the guests decided that was enough, and we made a comparatively early departure from Sunok. Searching, as always, for dolphins on the way back to the resort we came across a pod of about 200 of them who were very happy to play alongside the boat and put on an entertaining display of leaping and spinning. Huge fruit bats silhouetted against a beautiful new moon was the final wildlife spotting before dark descended shortly before we arrived back at the resort. A truly fulfilling day!

December 5th, 2012.
Typhoon Bopha passed to the south of us yesterday as predicted. We had a day of very poor weather with no chance of doing any marine activities, but no exceptional wind or rainfall. Unfortunately thousands of others were not nearly so lucky, including Delia's eldest brother whose family home together with all their possessions was washed away in floods in Mindanao. Our hearts go out to all the people who suffered and continue to suffer as a result of this storm. But back here in Southern Leyte it's a beautiful day once again, and everything is normal.

December 2nd, 2012.
Although it is a beautiful, sunny day with only the gentlest of breezes, we are preparing for the arrival of Typhoon Bopha. This is a very unusual tropical cyclone forming very close to the equator and forecast to track at typhoon strength much further south than the norm. We are expecting the typhoon to pass sometime on Tuesday and it is probable that there will be prolonged power, and maybe also communication, cuts after that. We are well stocked with food, water and fuel for the generator and are making every possible effort to protect the property. Unfortunately local residents are not yet taking the storm warnings seriously and let's hope their optimism is justified.

November 29th, 2012.
There is still comparatively little plankton around, so the whale sharks are spread around the bay hunting for it. A couple of guests were very keen to look for whale sharks, knowing that the chances of finding them when they are so dispersed are much lower, and we ran another great tour today. The highlight, even surpassing the superb barbecue lunch, was finding a large pod of anything up to 50 huge pilot whales on our way to Limasawa Island. These were swimming very slowly and we watched them for over 40 minutes and could have done so all day. As usual there were no other tourists in sight and the fishermen in the 2 boats we did see had no interest in watching pilot whales!
Work on enlarging the septic sevicing the beach bathroom is now complete, and the bathroom is operational again, saving guests enjoying themselves at the beach the need to walk back up to the hotel.

November 14th, 2012.
After a couple of miserable wet days, the weather has returned to the seasonal norm with plenty of sunshine and fresh breezes from the north east. The sand is accumulating slowly but steadily on the inter-tidal area at the beach, and the sailing conditions are consistently good. For those interested in knowing more about whale shark watching here in Sogod Bay, we've set up a blog with lots of information about that and will post regular updates on whale sharks and other matters of interest at sogodbaynews.worldpress.com.

November 10th, 2012.
Despite failing to find any whale sharks, yesterday's tour was another outstanding day out. We saw several large pods of dolphins, as well as a few pilot whales, and spent 45 minutes with anything up to 150 of them swimming around, beside and under our boat. An adventurous guest donned his snorkel and mask and experienced amazing close up underwater views of them. Delia accompanied the tour, and the barbecue lunch at the beach was sublime.

November 4th, 2012.
Yesterday's whale shark tour was a great success, seeing 2 whale sharks plus 50 to 60 dolphins and pilot whales. We were the first and only people to run a whale shark tour so far this season, and we had to modify the schedule when some very nasty weather blew up as we rounded the headland toward the whale shark sanctuary. So we backtracked for an early lunch and set off again about 1.30pm. We found our first whale shark quite quickly and at 3.30pm the guests had to decide whether to head to Limasawa for some great snorkeling, or to spend another half hour searching for a 2nd whale shark. Just as it looked like we would miss out, and we were getting ready to head for home, the spotters found a 7 metre whale shark for us to swim with. Full marks to the guides and spotters for hunting all day and to the guests, who were well rewarded for their patience and perseverance. There was a spectacular sunset with Limasawa Island silhouetted against a crimson sky as we sailed back to the resort, where we arrived well after dark.

November 2nd, 2012.
We have just finished moving one of the garden walls to give a couple of extra metres of space, ideal for daytime relaxing by the pool while admiring the stunning view to neighbouring islands. It's also a great spot for a romantic evening, and last night a young couple on their honeymoon enjoyed a superb candlelit dinner overlooking the beach, with a beautiful bright moon lighting up the seascape.
The north east airflow is now well and truly established, the sun is out in force and sailing, diving, snorkeling and sunbathing conditions are excellent. After a few days without sightings, the whale sharks are being seen again and we are planning our first whale shark tour of the season for tomorrow. Stay tuned for news of the tour.

October 25th, 2012.
Tropical Storm Son-tinh (local name Ofel) made landfall in Leyte yesterday afternoon, a little to the north of us. We had a windy and rainy day, but nothing too significant although the mains electricity supply is currently down and we are running on the generator. As the storm approached the wind, and therefore the waves, turned back to the south west washing away the sand which had accumulated over the previous week so we're back to square one on that front. The winds have already veered towards the south east, and we can expect the north easterly airflow to re-establish itself very soon and the sand start to return once more.

October 21st, 2012.
After a few beautiful, flat calm days early in the week, the winds have now turned to the north east, signalling the end of the south-west monsoon. Already a lot of sand has returned to the inter-tidal area at our beach making for much easier access to the water on foot and with the catamaran and kayak. With the changing wind and wave patterns, and falling sea temperatures, whale sharks are now to be seen again in Sogod Bay, and we're looking forward to bringing you news of our first whale shark tour of the season very shortly.

October 13th, 2012.
Sensational Sailing! The past couple of weeks have seen quite a lot of overnight rain (which is always welcome) but, apart from 2 brief afternoon showers, the days have been fine and dry. Some flat calm days at the beginning of last week have been succeeded by some great breezy conditions making for outstanding sailing. The catamaran, which takes up to 4 adults, is very easy to sail and is ideal for less experienced sailors to gain in confidence, while more adventurous mariners will relish heeling onto 1 hull and, if they can find flat water, getting the boat to plane. For people completely new to sailing we offer great value introductory courses. And if there is no wind at all, take out the kayak for a close up exploration of the coastline and to access some great snorkeling reefs.

September 26th, 2012.
After nearly 2 months of glorious weather, we have seen a few days of grey skies and moderate to strong winds brought on by Typhoon Jelawat. This has followed the typical path of typhoons in the North Western Pacific and passed well to the north-east of us, and as it moves even further away we can expect the return of much calmer and sunnier conditions. Diving conditions have remained excellent although, with wavy conditions out in the bay, diving in the last few days has been confined to the dozen or so excellent sites on the west side of the bay. Sailing has been for the brave only, but snorkeling on the house reef and kayaking to Tangkaan marine sanctuary have been great options.

September 11th, 2012.
We have recently upgraded our internet access to provide fast web-browsing, social networking and e-mail via a Wi-Fi connection available throughout the guest rooms, lounge, restaurant and bar areas. Please note that we do not have a computer available for guests' use, but for those without smartphones or laptops, there is an internet cafe in Padre Burgos town.
The last few days have been very calm, which made for excellent dolphin watching last Saturday, and yesterday we saw the first north-westerly wind in several weeks which indicate that the south-west monsoon is starting to draw to a close. With the advent of winds from the north-east we will see the sand shifting back onto our beach making for much easier launching of the catamaran and access to the house reef. However, lightweight rubber or plastic shoes, which can be used for both walking and swimming, are always a good idea for people who, like me, have sensitive feet.

September 5th, 2012.
Delia, Nikka and I have spent the last few days in Singapore where we celebrated Nikka's 4th birthday. The highlight was surely the trip to the zoo, which is so well organized and set in such a great environment that it is as close as you can get to seeing the animals in the wild. We, therefore, missed the large earthquake on Friday evening, the epicentre of which was only a couple of hundred kilometres from Padre Burgos. Here it caused a strong and long shake, but there was no damage to roads, infrastructure or buildings and everything continued to work fine. Padre Burgos is set in a bay, and there are other islands in all directions so the danger from tsunamis is very low. Furthermore, our hotel is about 20 metres above sea level giving excellent protection from any kind of hazard from the sea. So if you are coming, or are thinking of coming, to this area don't be put off by alarmist or sensationalist stories - the wildlife, beauty, people and services are unaffected by last week's earthquake and the weather is great.

August 29th, 2012.
It has been a beautiful month weather-wise, with less than 3 hours of rain most of which fell during the night. There have also been pretty consistent south-westerly breezes which, combined with the sunshine, have made for some great sailing days.

August 9th, 2012.
We ran another truly excellent Limasawa Tour today, and saw many dolphins before snorkeling at our favourite and really outstanding site. We've had a 100% success rate on finding dolphins on this season's tours and we've been the only people out watching them which adds hugely to the experience. Throw in a visit to the site where Magellan held the first Christian mass in the Philippines, a delicious barbecue lunch on a deserted sandy beach and a 2nd excellent snorkeling reef and it all adds up to a perfect 'Adventure in Tranquillity'.

July 25th, 2012.
The weather this month has been quite variable for July, with several rainy days and also some quite windy ones. With the wave action 'ripping' along the shore the sand has shifted further up the bay making the inter-tidal area quite rocky although there is always sand on the permanently dry area. Bringing some reef shoes or diving booties is a great idea for walking across the rocks to access the swimming and excellent snorkeling on the 'house' reef.

June 20th, 2012.
With all the attractions on, under and by the sea we shouldn't overlook the interesting and diverse sights on land. Our 'South West Leyte Tour' takes in waterfalls, old Spanish houses, churches and bell towers, hill-top shrines, chapels in caves, and a visit to a tiny reef-fringed island with tremendous sandy beaches. Additionally guides are available to help explore the network of fascinating caves in the local hillsides and fish-feeding at a nearby sanctuary is a great hit with the young ones.

May 30th, 2012.
We are now seeing breezes coming from the south west, indicating the beginning of the south-west monsoon, or 'habagat' as it is known locally. We still expect lots of sunshine, and the change in wind direction means that the sea on our side of the bay, the east side, will be very calm making for great snorkeling conditions locally. For sailing, an off-shore breeze means small waves which are great for getting the catamaran to heel over onto one hull and really pick up some speed. The 'habagat' is likely to bring an end very shortly to this superb whale shark watching season, but we saw 4 different whale sharks on yesterday's tour with a total time in the water with them of about 35 minutes.

May 21st, 2012.
The superb whale shark season just goes on and on! Yesterday we ran another tour, seeing 3 whale sharks each for an extended time. The private tour comprised a young family and the youngest member of the party, just 3 years old, was able to ride in a kayak and see one of the whale sharks from there. For parents wishing to go on the tour with young children, we take along a child minder in addition to the cook so the parents and older children are able to snorkel while the young one(s) are well looked after on the boat. Being private tours we can modify the timing and itinerary to suit your group, and yesterday we skipped the visit to the First Mass site and stopped at a great beach with lovely calm, shallow water so the kids could run around and play, while the parents chilled out and took in the beautiful views across to Panaon and Surigao islands. On Saturday we ran our first 'new look' Limasawa tour. We have been running these for 3 years but have modified the programme along the lines of the extremely successful whale shark tours and now include dolphin watching, and a barbecue lunch on a superb sandy beach in addition to snorkeling and visiting the site of the First Mass. The dolphin watching on Saturday, and again on the whale shark tour yesterday, was outstanding with dolphins swimming and leaping right next to the boat for 20 to 25 minutes.

May 8th, 2012.
The weather is now changing, with the winds starting to move to a more southerly direction and in a couple of weeks' time the south westerly breezes should be firmly established. In this transition period, the days are very calm but we should quickly return to some great sailing conditions, especially in the bay in front of the town where the flat water will make for some really fast sailing. Regardless of the wind, the days are hot, dry and sunny and diving, snorkeling, relaxing on the beach are also all great options. And, of course, the whale sharks are still here!

April 30th, 2012.
We had an absolutely sensational whale shark tour today with well over 100 dolphins being seen on the way over to Sunok. We also had our youngest whale shark watcher, at just 9 months old! We arranged a child minder to accompany us, and the 3 and 4 year olds also had a great day and the parents were able to relax and enjoy their day out. To get the most out of whale shark watching you should have a certain degree of fitness and be able to swim proficiently but with our small, private groups anyone who can float in the water should be able to get a good close up view of the whale sharks.

April 19th, 2012.
.The glorious weather is well and truly set now with lots of sunshine, usually calm mornings and lovely afternoon sailing conditions. Water visibility is excellent and whale shark watching remains superb - with 6 or more whale sharks being seen on most tours. The Easter 'crowds' (there are never many tourists in Padre Burgos) are thinning out and this is a great time to come and relax in the sunshine, sail, enjoy some great diving and swim with whale sharks.

March 15th, 2012.
We've been having some lovely weather with superb breezes for great sailing, and excellent conditions for whale shark watching and scuba diving. We ran another top-notch whale shark watching tour on Saturday with just 3 guests. We timed it to perfection to arrive just after 2 dive boats with 18 guests on board had completed their 'interaction' leaving us to enjoy long sessions with 3 different whale sharks all by ourselves. On the way back to the resort I was acting as 'lookout' watching for dolphins but it was the eagle eyes of our excellent boat captain who spotted a large pod and we had 20 minutes with them frollicking around the boat.

February 25th, 2012.
Yesterday's whale shark tour with 4 guests was outstanding and is going to take some beating. We did the tour in reverse order to normal as the whale sharks have been proving easier to find in the afternoons. The snorkeling in the early morning sunshine was truly superb with fantastically clear water and a sea eagle hovering overhead before we soaked up the laid back, peaceful atmosphere on Limasawa Island and the great views from the site of Magellan's Cross. Out of nowhere dark clouds appeared as we sailed towards Sunok and, although there was minimal rainfall, a strong squall whipped up the waves making for an exciting crossing. As the squall eased and our thoughts were turning towards our barbecue lunch, we spotted a large pod of dolphins and had an excellent half hour watching them. The afternoon turned out to be even better, as for most of the time we were the only ones with the whale sharks, the sun was shining and we saw 4 sharks. Its was after 4.30pm by the time we left Sunok and again we saw a huge pod of dolphins on the return to the resort, before enjoying a glorious sunset and getting back to the beach just as the bats were doing their evening flyover. A truly outstanding and forever memorable day for everyone!

February 18th, 2012.
After a week of continual rain the skies have cleared and we are experiencing our usual warm, dry and sunny weather once more and hopefully that will be the last of sustained periods of rain for this year's 'rainy season'. The diving has been good despite the poor weather and those that have ventured across the bay in search of whale sharks have been finding them. With the return of the sun, diving and snorkeling, whale shark watching, sailing and just relaxing on the beach are all going get so much better.

February 12th, 2012.
For the first time bad weather forced us to cancel yesterday's whale shark tour. We had some guests checking out after lunch today who were desperate to see the whale sharks, and although it wasn't looking promising when I got up at 5.00am, the skies cleared about an hour later and we set off with 2 guests under heavily overcast skies but with a nice calm sea. Not surprisingly we were the only ones looking for the whale sharks, and with clouds hanging low over the mountains it was a very peaceful and atmospheric experience and our efforts were rewarded with great interactions with 2 whale sharks. Flexibility is the name of the game for our whale shark tours, and the guests were back at the resort in time for a great lunch and checked out on schedule at 1.30pm with huge grins on their faces.

January 30th, 2012.
The excellent weather continues and, as we had no guests yesterday, Delia went sailing for the first time in many, many months and really enjoyed it. We had a nice light breeze in the morning, with the wind picking up in the late afternoon as it often does. We get consistent and reliable north-easterly breezes at this time of year, and when there is no breeze the kayak is an excellent way to explore the coastline.

January 22nd, 2012.
After more than our fair share of wet weather over Christmas and the first couple of weeks of January, the past week has been lovely with plenty of whale sharks being seen on our whale shark tours and some excellent sailing conditions. We ran an Introductory Sailing course for a couple of guests who have since had some great solo sails around the bay - and are looking forward to getting out on the lakes back home when the ice melts in their native Finland. Whether you have never sailed before, or are an accomplished sailor you will find our Hobie Cat to be exhilarating and a great way to enjoy the surroundings. Do please remember that if you take the catamaran (or the kayak) out on your own you are responsible for getting it back to the beach and if you need to be rescued extra costs will be incurred.

January 5th, 2012.
It was raining this morning, and when the guests queried the chances of seeing whale sharks I remarked that they weren't going to see them from the comfort and dryness of the resort lounge. So, after waiting for 20 minutes for a particularly heavy shower to pass, we departed and were rewarded with a fantastic day - 7 whale sharks all to ourselves. Although we got a good drenching as we started looking for the whale sharks, the weather brightened up after lunch and we had a lovely stop at the First Mass site, some excellent snorkeling and a sunset cruise back to the resort in the early evening.

January 1st, 2012.
Happy New Year! We had a full house last night, and Delia and the team put on a superb gala dinner with a whole letchon as the centrepiece. The midnight fireworks were really superb and everyone stayed up to watch them and enjoy the complimentary champagne. So if you couldn't make it this year we hope to see you next time around!

December 29th, 2011.
We lost count of how many whale sharks we saw on Christmas Eve - but it was a lot. Today we had a brief but very close encounter with just 1 whale shark. After an excellent lunch we saw maybe 100 dolphins on the way to Limasawa Island. Snorkeling with the whale sharks is the objective of the day, but with dolphin and pilot whale watching, snorkeling at a fantastic marine sanctuary and visiting the site of the First Mass our whale shark tours are all round and truly excellent full day tours.

December 20th, 2011.
There are at least 30 whale sharks over at Sunok at the moment, and our guests enjoyed great outings seeing plenty of sharks yesterday and today. The Castle is looking very festive, and provided a great setting for Club Vera's traditional British Christmas dinner complete with turkey and trimmings plus a superb letchon.

December 17th, 2011.
Tropical Storm Washi (called Sendong in the Philippines) has thankfully passed well to the south of us, and although we had 24 hours of poor weather it was nothing exceptional. Tragically the storm has brought severe flooding to parts of Mindanao causing considerable loss of life and extensive damage to property. Ferries have been severely disrupted with no ferries sailing to or from Leyte yesterday or today, but things should be back to normal tomorrow.

December 1st, 2011.
The penthouse apartment building is now complete, as scheduled. Over the next month we will be identifying and fixing any niggling issues which often arise with new buildings, and the apartment is available for guests starting from January 2012. The rate is fixed regardless of the number of guests, up to a maximum of 6 people, and includes our delicious Continental breakfast served in the restaurant. The apartment has a fully equipped kitchen, 'maxi bar' free Wi-Fi, satellite TV, DVD, CD, MP3 player, 2 very large bedrooms, 2 bathrooms and a huge lounge/diner with a lovely balcony. Extra beds are provided for the 5th and 6th guests and can be set up in the bedrooms or in the lounge to suit your choice. On another note, whale sharks continue to be seen very regularly and our private whale shark tours are proving to be very successful and very popular.

November 17th, 2011.
The whale sharks are back! With sightings over the weekend, we ran our maiden private whale shark tour for 2 guests yesterday, including a bbq lunch on a secluded beach, dolphin watching, visiting the site of the First Mass, and some superlative snorkeling in a marine sanctuary at Limasawa to round it off. Being a private tour, the pace of and programme for the day was tailored to the guests and the tour was a huge success. Yet another reason to spend your vacation at Padre Burgos Castle Resort!

November 5th, 2011.
About a week ago the wind started to veer from the south-west, from where it has been coming since June, to the south and then the east and it appears already that the north-easterly windflow is now established and we can expect that to dominate for another 7 months. The sand is returning nicely to our beach, and we should once again have a complete cover from the permanently dry are to the low tide mark very soon.

October 12th, 2011.
We were on storm alert last night with a tropical storm forecast to make a direct hit on Padre Burgos. The storm was not that big as tropical cyclones go, and was in fact only classified as a tropical depression, but nonetheless we took precautions to protect people and property. Although we had a fair amount of rain and some strongish winds, there was nothing exceptional and according to the reports the storm seemed somehow to leapfrog us and is now heading west from Cebu towards Palawan. We had stocked up with about 3 weeks supply of gasoline for the generator, but the mains electricity has just been re-connected after a 27 hour power cut (our longest in the 3 1/2 years we've been here, but perfectly manageable). So we now have the task of putting everything back from shelter into its proper place but, as the saying goes, we're much better to be safe than sorry.

September 14th, 2011.
Today I had an absolutely fabulous sail accompanied by a huge pod of maybe 50 dolphins swimming in front, behind, to the side and underneath the catamaran for over half an hour. Also common in the bay are pilot whales which, although they are not as playful as dolphins, are much bigger and are very impressive close up. For the coming whale shark season, which will hopefully start around the beginning of December, we intend to run our own, private whale shark tours looking for dolphins and pilot whales, taking a barbecue beach lunch, visiting a marine sanctuary for snorkeling as well as whale shark watching. This service will be exclusive to Padre Burgos Castle Resort guests and tours will run for groups of 2 to 6 people so guests can dictate the pace and the programme for the day.

September 3rd, 2011.
Nikka is 3 today, and celebrated with a pool party. She is already attending nursery school, so her classmates (and their parents), as well as children from our barangay loved swimming in the pool and the great food which Delia laid on.

August 21st, 2011.
The great weather is continuing, with sunshine pretty much all day every day, with some regular night-time rainfall to keep things fresh and green. The sailing continues to be excellent, with steady south-westerly winds (called the habagat), although these have now washed most of the sand further up the bay from us. The permanently dry area is always nice and sandy and the sand-free shoreline makes for really clear water and great snorkeling on the house reef.

July 24th, 2011.
We're busy constructing a new and very luxurious 2 bedroom/2 bathroom penthouse apartment. Together with the huge lounge and fully equipped kitchen, this will provide fabulous accommodation for families or groups of up to 6 people - with all the services and facilities of the resort. Completion will be in late November and it is bookable from January 2012.

June 30th, 2011.
I never believed it myself until I saw it, but the sand here is seasonal. There is no fixed time of year, but the sand moves up and down the coastline following the pattern of the prevailing wind. Generally the wind comes from the north-east from November until May, and from the south-west from June til October. So with the recent change to south-westerly wind and waves a huge amount of sand has washed up on our beach which is always stunning but is currently really impressive - and it makes launching and beaching the catamaran very easy.

June 19th, 2011.
We have recently re-configured our guests rooms, and we are now offering a Family Room and a Single/Double Room in addition to 2 Doubles and 1 Twin/Double Room. The Family Room, which is priced at a fixed rate for up to 4 people, has a king-size bed and a single bed (or we can change it to 3 single beds), and an extra bed can be added for a 4th child. The Single/Double Room is a genuine double room but is offered at a great discount for a single traveller, or a 3rd or 5th person who is part of a small group. The Twin/Double has a double bed and a single bed, so it is ideal for a couple or for 2 people sharing, and can accommodate a 3rd person at extra cost. Of course, all the rooms are beautifully furnished and have air-conditioning and private, en-suite bathrooms and can be booked via our secure on-line booking system.

June 6th, 2011.
Delia, Nikka and I have just returned from a very enjoyable and relaxing few days at Anda, on the east coast of Bohol. We had a couple of chill out days and a day touring Bohol's famous Chocolate Hills and a trip on the Loboc River, all of which Nikka really loved - as did Delia and I! There are many guests who look to combine a visit to Southern Leyte with a few days at another destination in the Philippines, and that part of Bohol makes a perfect combination with Padre Burgos. It is not as touristy or commercialised as Panglao, offers great beaches with good diving and snorkeling, and travel in either direction to or from Padre Burgos is quick and easy to arrange. So, if you're looking for a 2-centre holiday in beautiful beach environments, Padre Burgos and Anda are hard to beat.

May 31st, 2011.
The 'low' season starts tomorrow, with room rates reduced accordingly. 'Low' season is really a misnomer, because all the facilities and services, with the exception of whale shark tours, are available and conditions are at their best. After 2 or 3 days of grey weather but with excellent winds for sailing, we are enjoying the seasonal norm of beautiful sunshine and clear, calm seas. With the change of wind and wave direction, the beach is in superb condition and the 'house reef' is providing amazing snorkeling.

May 18th, 2011.
As we approach the end of the 'high' season, we are now planning the new building to be constructed at the entrance gate. The upper floor will comprise a luxurious 2-bedroom apartment while the ground floor will house, amongst other things, a scuba gear washing and drying room. Disruption to guests in the Castle will be minimal, but we will be reducing the room rates during the construction period so continue to check our web site for 'special offers'.

May 9th, 2011.
We did have some guests who spotted whale sharks last week. Unfortunately, they saw them from the beach and by the time they got back out on the boat and donned their snorkels, the sharks had dived too deep to be seen. Even the 'locals' are now saying that the whale sharks are no longer around so it does look like this unusual and disappointing season is truly over. There were plenty of whale sharks to be seen in December and January. But the prolonged wet and windy weather reduced sightings and from the beginning of March onwards the majority of whale shark tours were unsuccessful. But the weather and the diving, apart from watching whale sharks, should just continue to get better and better and the 'off-season' is a great time to visit Southern Leyte. At the Castle we have catamaran sailing for breezy days and the kayak when it is calm.

April 24th, 2011.
Happy Easter! Still no confirmed whale shark sightings yet, although the Limasawa locals say they are seeing whale sharks both mornings and afternoons on a daily basis. Our Limasawa Island tour is hugely popular and enjoyable, so why not add on a search for the whale sharks to the standard tour on the basis of 'no see, no pay'?

April 15th, 2011.
There have been reports of regular whale shark sightings at Limasawa Island. As yet, we are unaware of any whale shark tours finding the sharks but there may yet be a good end to this whale shark season.

April 10th, 2011.
At last we've had a prolonged spell of dry, if not completely sunny, weather. The winds have continued to be superb and the sailing excellent. We recently hosted a private dive club from Cebu who made the trip in their own well appointed dive boat. We are delighted to accommodate such groups and can arrange re-filling of tanks and the services of experienced local dive guides. Of course, such groups are required to respect all the local ordinances and pay all the sanctuary and diving fees, and generally protect the marine environment they are here to enjoy.

March 26th, 2011.
It does look as if we might have to give up on whale sharks for this season after 2 more consecutive unsuccessful tours. We're still getting a lot of showery weather, but the winds remain consistently good. So diving in the morning and sailing in the afternoons makes for a pretty good holiday! With the prevailing winds coming from the north-east Ampo reef and the Coral Garden offer excellent snorkeling in calm waters.

March 7th, 2011.
We've augmented our range of wines with an excellent Argentinean malbec, a delicious Chilean merlot and a crisp Chilean sauvignon blanc. So whether you wish to enjoy a relaxing cocktail, refresh yourself with an ice-cold beer or savour a bottle wine, the bar at Padre Burgos Castle Resort is the best in town - in fact, in Leyte!

February 25th, 2011.
The last couple of weeks has been disappointing for seeing whale sharks. They are being seen sometimes during regular dives, and we had guests who participated in a successful tour last week but there have also been some tours failing to find them. We had some guests who were caught out, not realising that the public transport system within Padre Burgos closes down at 6.00pm. If you're going out in the evenings make sure you pre-book your return transport - or enjoy the 3km walk back from the town!

February 10th, 2011.
Finally we've had a sustained spell of good weather and whale sharks are being spotted again - although not as easily and frequently as normal at this time of year. We're also getting some nice winds and sailing conditions have been excellent.

February 2nd, 2011.
Delia and I are now back from our visit to Edinburgh combined with some skiing in the Swiss Alps. We had great weather in Switzerland - cold, sunny days but no snow - and got back to continuing rainy and windy weather here. More discouraging is that the whale sharks are proving to be elusive and there have been unsuccessful whale shark tours conducted. Let's hope they surface again soon.

January 3rd, 2011.
The whale sharks are here in abundance now, with an average of 5 being seen on each whale shark tour. If you've never seen whale sharks before, or you want to see them again at very close quarters, now is a great time to visit Padre Burgos.

November 30th, 2010.
The 'low' season has come to a close and bookings are already good for the high season. The whale sharks are around in Sogod Bay but still in rather too few numbers for a sighting to be probable - and the 1 tour run last week was unsuccessful - but signs for a great season are very promising. If you want to take a whale shark tour so early in the season, we recommend going with an operator who will offer a scuba dive (or two) if the whale sharks prove to be elusive. We still have some availability for both our Christmas and New Year's Eve festivities, so contact us soon if you are looking for a warm tropical environment, great activities in peaceful surroundings and superb food and drinks over the festive period.

November 17th, 2010.
We now have DVD systems with 22" LCD flat screens available for rent at a small cost for use in the bedrooms, for those that wish to enjoy a movie in privacy. We have a selection of DVD's available for guests to borrow, including some children's programmes.

November 6th, 2010.
We have now installed a booster aerial for our internet connection, and the speed has improved considerably. While it is still not up to broadband standards, the free Wi-Fi connection provides very good internet access for e-mails, social networking and web browsing.

October 10th, 2010.
Sailing is proving to be a big hit, with generally excellent conditions and superb scenery to admire. There is also plenty of fauna to see, with sea turtles swimming beneath the boat, eagles soaring overhead and regular pods of dolphins and pilot whales swimming through the bay.

September 19th, 2010.
Our Water Sports Centre offering catamaran sailing, kayaking and snorkeling is now fully operational. These great sports are superb ways to enjoy the natural splendour of Sogod Bay, in complete harmony with the peaceful surroundings.

September 3rd, 2010.
Happy Birthday! Nikka celebrated her 2nd birthday today, inviting the local children to a great party down at the beach with letchon, ice cream and of course birthday cake. Nikka was on much better form than last year, and really enjoyed having so many other children around. We've just ordered a sailing boat and a 2-person kayak which will be delivered in a couple of week's time. Sogod Bay is a great place for sailing and the kayak will allow guests to explore the wonderful and varied coastline.

August 24th, 2010.
Jackie gave birth to a beautiful baby boy, Jadericks, last night. Congratulations to Jackie and husband, Maasin.

August 9th, 2010.
Weather and sea conditions here remain great. Limasawa tours have been very popular recently, with dolphins being seen regularly on the trip over there which is always a great bonus.

July 19th, 2010.
Having been laid low with a mystery virus, I am now pretty much back to normal form. We've been taking advantage of a rather quiet period to do some painting to keep the place in tip-top condition. We've also being doing a little re-arranging of the garden landscaping - as things grow they need to be re-positioned to maintain our superb ocean views.


June 24th, 2010.
The Castle facilities now include free wi-fi internet access, allowing our guests to surf the web and access e-mails from anywhere inside the Castle and from the patio.
Snorkeling conditions on the 'house reef' are currently excellent with calm, ultra-clear water conditions and the usual plethora of fish, hard and soft corals being boosted by regular visits from sea turtles.


June 6th, 2010.
We have just implemented a secure, encrypted on-line booking system with Reseliva. This allows guests to make and receive instant confirmation of a booking up to 12 months in advance. Guests who have special requirements or seek further information before making a booking can continue to e-mail info@padreburgoscastle.com or telephone us and make a booking in the traditional manner. We anticipate that the new on-line reservation system will enhance our booking procedures and we look forward to receiving your feedback.

May 26th, 2010.
Delia, Nikka and I have just returned from a very pleasant few days in Bohol, attending the fiesta in Delia's home barangay in Loon. It is interesting to compare the touristic development of Bohol with that of Leyte, with Bohol being much better served by regular fast ferries from Cebu and several daily flights from Manila and having well advertised attractions for visitors to enjoy. Of course the downside is that tourist vans swarm around the Chocolate Hills like bees collecting pollen, while Leyte's sights are far less publicised and can be enjoyed in a calm, unhurried and harmonious fashion. With several daily boat services between Leyte and Bohol, combining both these islands into a single holiday is becoming increasing popular and we thoroughly recommend doing so.

May 10th, 2010.
Election Day has passed very peacefully and although I wouldn't discount all the stories reported in the press the picture of nationwide violence portrayed by the media is far from accurate. Here in Padre Burgos there were some issues with the electronic counting machines and queues to vote were quite lengthy, but everyone was very good natured and there was a real sense of community purpose. The whale sharks are still here with 8 being seen on a single tour to Limasawa last Monday.

April 20th, 2010.
Yesterday Delia and I paid a visit to Maasin Forest Park and the shrine at Monte Cueva. The park offers superb views into the mountainous interior of Southern Leyte and across the Bohol Sea and is an excellent place to explore on a mountain bike. Monte Cueva also affords fantastic views and the chapel in the summit cave offers physical and spiritual relaxation after the hot sweaty climb up the 400 or so steps, and it is very well worth exploring.

April 6th, 2010.
Holy Week saw mixed conditions for diving with stiff breezes, moderate waves and a fair amount of rain reducing visibility from the normally excellent conditions we experience here in Sogod Bay. The whale sharks are still around in large numbers and all whale shark tours continue to report sightings. With the north-east monsoon winds becoming less dominant, the crowds thinning out after Easter and the whale sharks still around, the coming weeks look set to be superb.

March 20th, 2010.
Happy Birthday Delia! She hasn't had much time for relaxing as we've had resident and non-resident guests dining this evening, but it has been a rewarding day. We've also had 4 hours of rain this morning which was desperately needed, and things are already looking markedly greener than they were a day ago. Jade has joined the Castle team and we wish her success in her new role.

March 14th, 2010.
We are now back from our trip, having had a wonderful time. The beautiful architecture of Edinburgh and the cold mountain air of Grimentz in the Swiss Alps were quite a change from the tropical surroundings of Southern Leyte and it was wonderful to spend time with David's family. There's been no rain here for nearly a month which has been great for guests and visitors but the Castle garden is in desperate need of a significant amount of water. The whale sharks are still being seen reliably at Limasawa Island and all 3 dive shops seemed to have settled on a formula of 2 morning dives plus snorkeling with whale sharks in the afternoon. Options also exist for non-divers.

March 1st, 2010.
Delia and I are departing tomorrow for our trip to the UK and Switzerland. We will be monitoring the e-mail although there may be a longer delay in replying and, of course, we will be in a different time zone. We will also be contactable on both our phone numbers.

February 20th, 2010.
The easy access to the whale sharks at Limasawa is now starting to cause some problems with too many boats and too many people trying to get too close to the fish. In addition to the 3 established local dive shops, transient liveaboard dive boats and local bangkas are also taking customers on whale shark tours. Our guests have also been seeing whale sharks as part of our popular Limasawa Island tours, but our boat driver will not take guests close to the whale sharks if there are already significant numbers of people around. If our guests want to do a whale shark tour we encourage them to use one of the 3 dive shops, but if they take a Limasawa Island tour they may enjoy the huge added bonus of snorkeling with the world's largest fish. However people go, they should all treat the environment and the marine life with complete respect.

February 8th, 2010.
It finally looks like the weather is changing with dry settled weather predominating again - right on cue for the busier holiday periods, not that it's ever busy in Padre Burgos! Whale sharks are continuing to be seen in numbers around Limasawa Island and all the dive shops are now offering whale shark tours there.

January 29th, 2010.
Delia and I have just returned from a short trip to Manila we made in order to process a visa application for Delia. It's the first time we've been to Manila since we've been based full time in Southern Leyte and it's a world apart - skyscrapers, tree-lined boulevards, wall-to-wall financial institutions in Makati City, office workers thronging the streets at rush hour, international restaurants on every corner. The traffic and attendant fumes are horrendous (although not nearly as bad as many big cities in Asia) and it's wonderful to be based here with the clean sea air and lush vegetation whatever appeal the convenience and sophistication of the city may hold.

January 2nd, 2010.
After rain on New Year's Eve and a very strong breeze yesterday, we were finally able to set of our fireworks this evening and everyone enjoyed a great display. After some rain and a few breezy days the weather is now looking settled and conditions should be great for enjoying the full range of activities in and around Padre Burgos.

December 27th, 2009.
Two of our guests took a tour to Limasawa Island yesterday and while snorkeling they saw 3 whale sharks. Four more guests decided to try their luck today and spent about 30 minutes snorkeling with a 5 metre whale shark. So the world's largest fish are still around in Sogod Bay but are proving rather more elusive than usual and are still not reliably to be found at their normal feeding area.

December 24th, 2009.
Merry Christmas!
The whale sharks seem to have gone walkabout recently, and there was another unsuccessful tour today. A strong breeze has been blowing down the bay for the last few days which doesn't make whale shark spotting any easier. Let's hope things pick up soon and we start seeing whale sharks consistently again.

December 18th, 2009.
Yesterday we celebrated the 1st Anniversary of the opening of Padre Burgos Castle Resort, and commemorated the event with a superb dinner attended by 17 guests. The previous evening we hosted a private dinner for some of the provincial and municipal leaders and officials. Over the last 12 months we've been guided by our mission to provide excellent service to you, our cherished guests and customers, to enable you to make the most of your time visiting this beautiful and peaceful part of the world. From the feedback we've received we are being successful in achieving that objective and we aim to continue to raise the standards over our 2nd year of operation.
Diane has decided to seek new opportunities elsewhere and we wish her well in that and thank her for her excellent contribution over the last 12 months. Charmine and Joecyl are now leading the Castle Service Team and have done a fantastic job during the last very busy week. Well done and keep it up, girls!

December 15th, 2009.
Mixed news on the whale sharks, with 1 successful and 1 unsuccessful tour last week. So the advice on the Nov 23rd update still holds good. The bats are now back in full force and we've been getting some great dusk time shows as these huge bats fly directly overhead on their way to their nocturnal feeding grounds.

December 5th, 2009.
Positive news on the whale sharks. The sea temperatures have been falling and there is a lot more plankton in the water now, which is what attracts the whale sharks into the bay at this time of year. The last 4 tours have all been successful with great snorkeling up close with these magnificent creatures. Whale sharks have also been spotted several times on our side of the bay and things are looking very promising for a great whale shark season.
While I have been writing this a beautiful sea eagle has just soared gracefully over the Castle. Superb!

December 1st, 2009.
Even after 6 years in SE Asia I can't get used to Christmas in a warm climate. Delia would put up the Christmas decorations in September if she could, so we compromise on 1st December each year. So we're now looking very festive and are well stocked up with 'champagne' and smoked salmon for your Christmas Day breakfast.

November 23rd, 2009.
Whale Shark Update....The good news is that the whale sharks are back in Sogod Bay, and should now be here until late April giving visitors the chance to see the world's largest fish at very close quarters. Not quite so encouraging is that 2 tours last week failed to locate the whale sharks so viewing opportunities aren't yet as reliable as they should be later in the season. The best advice for divers is to go on a tour which combines a dive with snorkeling with the whale sharks. Non-divers should be realistic about the chances of finding whale sharks - so far there has been only a 50% success rate. Stay tuned for further news.

November 15th, 2009.
We have now completed upgrading the Castle bar area and are very pleased with the result. As well as looking really good, our selection of wines continues to expand and improve with recent additions including a refreshing merlot from northern Italy and a deliciously fruity Chilean chardonnay. We have also hand built and installed a couple of display cabinets housing souvenir items and holiday essentials such as sunblock and insect repellent.

November 9th, 2009.
The first whale shark tour of the 2009/2010 season was a success today. Only 1 of the world's largest fish was sighted on the "official" tour but another was lying on wait back at base on this side of the bay. It's early days, but with whale sharks remaining in the bay until August the signs for a great season are very promising.

November 1st, 2009.
Padre Burgos Castle Resort witnessed its first marriage proposal this evening - and a successful one at that. Gus and Amor visited us in October, and then returned here for another 5 nights so Gus could make his proposal in the glorious natural environment here in Sogod Bay. Congratulations and very best wishes to the pair of you, and we are looking forward to hosting a wonderful honeymoon for you!

October 23rd, 2009.
The Municipality of Padre Burgos has been celebrating its 52nd Anniversary this week with a series of events leading up to the Grand Dinner Ball yesterday evening. Activities have included basketball, volleyball, boxing and, undoubtedly the highlight of the week, the Search for Miss Padre Burgos 2009 where 11 glamourous ladies competed for the prestigious title. On a more serious note both the Municipal Mayor and the Congressman of Southern Leyte reiterated their commitment to 3 key areas: development of the agricultural industry; protection of the environment and natural resources; development of touristic infrastructure. More power!

October 12th, 2009.
A good easterly breeze around dusk this evening, saw the first flypast of giant bats we've had in many weeks. These bats dwell in caves on Limasawa Island and feed at night time in the mountainous forests above Padre Burgos. When the wind is from any sort of northerly direction their evening flight path is directly over the Castle which makes a great spectacle and it was a real pleasure to observe them again today. It seems that the south-west monsoon is finally drawing to a close and that bat-watching at dusk time will be on the early evening agenda once again.

October 10th, 2009.
Jackie celebrated her birthday today. A last minute booking and dinner reservation meant she had to cancel her plans for a day off and help prepare some wonderful dinners. Thanks very much, Jackie, and Happy Birthday! It's been a good day for wildlife spotting with turtles swimming over the Castle reef and sea eagles soaring gracefully high above Macrohon.

October 5th, 2009.
Typhoon Parma, thankfully downgraded from it's earlier ferocity as a super typhoon, is now sitting almost stationary off the north west coast of Luzon and while very northern Luzon continues to be battered by this storm we are enjoying perfect weather here with a light south-westerly cooling breeze. Last night we enjoyed a classical Sogod Bay full moon and the image of small fishing boats plying the moonlit waters was simply stunning.

September 30th, 2009.
Our good friend Pete Green has just completed the UK '3 Peaks' comprising Ben Nevis, Scaffel Pike and Snowdon - the highest mountains in Scotland, England and Wales. He was just outside the magical 24 hour mark, but contending with driving rain, low cloud and a puncture en route it was a magnificent achievement. Bravo Pete!

September 28th, 2009.
Tropical storm Ketsana, which subsequently developed into a full blown typhoon, brought tragedy and loss of life to Manila and other provinces on the island of Luzon, but fortunately the island of Leyte has been unaffected and services at Padre Burgos Castle Resort continue to function normally. Our heartfelt sympathies go out to all the victims in Luzon, Vietnam, Camodia and Laos.

September 23rd, 2009.
It was another cracking day for snorkeling today and I'm getting to grips with the camera now. I need to take care to equalise the pressure in my ear while diving to the sea bed and concentrating on the camera settings - even a couple of metres of pressure can be quite painful. But a good shot of a spotfin lionfish was the reward today for a slightly sore right ear.

September 17th, 2009.
Another perfect day weatherwise, so Canigao Island looked a good bet for a day out for Delia, Liezel, Nikka and I. Canigao has long been a favourite picnic destination for locals but more recently the municipality of Matalom has put time, effort and money into developing it as a managed beauty spot. And beautiful it is - only a half hour's stroll all the way around with white sand beaches on 3 sides, and lush tropical vegetation in the middle. Everything is well organised with bangkas departing from 3 separate points on the mainland; snacks, drinks and delicious barbecued seafood for sustenance; running water and clean toilet facilities. I explored the snorkeling possibilities and with very strong currents on the western 'scuba diving area' found the best area to be on the eastern, landward side of the island with some lovely corals and a huge variety of fish. Despite the good organisation, Canigao is still a very peaceful, quiet place and makes a super day out or lunchtime stop on a day tour of southern Leyte.

September 14th, 2009.
After several days of perfect snorkeling conditions, Delia and I opted for a change of scene today and dug out the hiking boots which had last seen action in the Western Highlands of Scotland over 2 years ago. We decided on the 'Kinderhilfe Circuit' which starts near the Children's Village and after 20 minutes in the forest opens up into open meadows with glorious views across Sogod Bay and to more distant islands of Bohol, Camiguin and Mindanao. From up here the Tangkaan peninsular and Limasawa Island follow an identical sweep and it is no surprise that an underwater ridge covered by relatively shallow water connects the two. Although more distant hills beckoned we decided on the shorter route back to Barangay Buenavista, near the centre of Padre Burgos and a hable hable to take us back to our motor cycle at the Children's Village.

September 10th, 2009.
There wasn't a ripple on the sea today and the sun was shining brightly in a clear blue sky so it was time to try out the new underwater camera on the Castle reef. The camera is a very nifty Canon D10 which looks, and functions, very much the same as any modern small digital camera apart from a small protruding lens. It is waterproof to 10 metres and is therefore ideal for snorkelers and experimentation quickly showed that the 'underwater' setting did indeed produce the best results. There are some stunning creatures to be found and pictures to be taken on the 'house reef', but time and patience is required. Fish have an annoying tendency of moving quite quickly and not coming very close to the camera and to get side-on rather than top-down pictures requires a fair bit of underwater swimming. But great pictures can be taken so look out for the 'Photo of the Week' on our Homepage or check out the Photo Gallery.

September 9th, 2009.
Beautiful weather with clear skies and a light breeze so Delia, Nikka and I headed off to explore Hinunangan on Leyte's Pacific Coast. The road journey winds round Sogod Bay before heading east over the hills to the Pacific. Promises of mile upon mile of soft golden sand proved to be a little exaggerated, but Hinunangan is still a delightful place on a long sandy bay with the nearby twin islets of St Peter and St Paul beckoning for a return visit. The return journey turned into something of an epic as I decided to take a short cut, which entailed 1 ˝ hours crawling along just 15km of extremely rough road winding through stunning countryside with not a soul in sight. So lesson learnt - if the road's not on the map, the cement mixer hasn't been near it.

September 3rd, 2009.
Delia laid on a superb spread for Nikka's 1st birthday party, with a 30kg lechon as the centrepiece accompanied by beef steak, fried chicken, prawn sotanghoon, grilled milkfish, lumpia shanghai, all cooked in Delia's unique Filipino style followed by fruit salad, caramel cake and fresh tropical fruits. A brief shower around noon caused a swift removal of the serving tables to the shelter of the dining room, but that passed quickly and around 35 guests passed a wonderful afternoon on the terrace. The only person who didn't relish the moment too much was the birthday celebrant herself - hope you're on form next time round, Nikka!