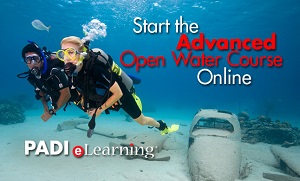 Prices:
Practical Instruction
Php 10,500 per person
Rental Equipment
Php 800 per day
The PADI Advanced Open Water Diver course improves on the skills you have already acquired and are using as a certified diver, teaches you new skills such as underwater navigation, and trains you to apply those skills in new environments such as deep or night diving. To participate in the course, you need to be at least 12 years old, a certified entry-level diver (e.g. a PADI Open Water Diver) and be fit for diving. Although there is no formal requirement for a minimum level of practical diving experience, it is common to log at least 20 dives before commencing the Advanced Open Water Diver course.

The course comprises both knowledge development, best done on-line at home before arriving at the resort, and practicing dive skills. You can obtain the on-line knowledge development course directly from PADI by clicking on the banner on the left.

The practical part of the course comprises 5 Adventure Dives with a maximum of just 4 participants under the expert guidance of our PADI Scuba Instructor. 2 of these dives, the Deep Adventure Dive and Underwater Navigation Adventure Dive, are mandatory and you may choose 3 other Adventure Dives from: AWARE - Fish Identification Dive; Boat Dive; Drift Dive; Multilevel & Computer Dive; Night Dive; Peak Performance Buoyancy Dive; Underwater Naturalist Dive. Tanks and weights are provided for all course participants, and you can choose to use your own or rent other scuba equipment.


For further information and advice about the course, please e-mail us at info@padreburgoscastle.com.