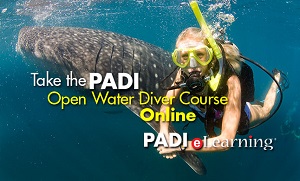 Prices:
Practical Instruction
Php 13,000 per person
Rental Equipment
Php 800 per day
The PADI Open Water Diver course is your passport to the entry level diving certification and the first step on your journey through the wonderful world of scuba diving. After completing the course you will be able to rent dive gear, get air fills and dive anywhere in the world in better or similar conditions to those you've trained in. To participate in the course, you need to be at least 10 years old, fit for diving, and able to swim.

The course comprises both knowledge development, best done digitally at home before arriving at the resort, and practicing dive skills. You can obtain either an on-line or off-line version of the digital course directly from PADI by clicking on the banner on the left. Our PADI Scuba Instructor is available for support, by e-mailing us at any time during your knowledge development, and will review your learning before you undertake the practical sessions.

The practical part of the course is conducted for a maximum of just 4 participants over at least 3 days and comprises 5 'confined water' and 4 'open water' training dives with your instructor. You learn and master each of the required skills in confined water (in the pool or in swimming pool-like conditions in the sea) first before moving on and showing your instructor that you can comfortably repeat those skills in open water. Tanks and weights are provided for all course participants, and you can choose to use your own or rent other scuba equipment.


For further information and advice about the course, please e-mail us at info@padreburgoscastle.com.